Artists collaborate for Danse En L'air's 'Wind'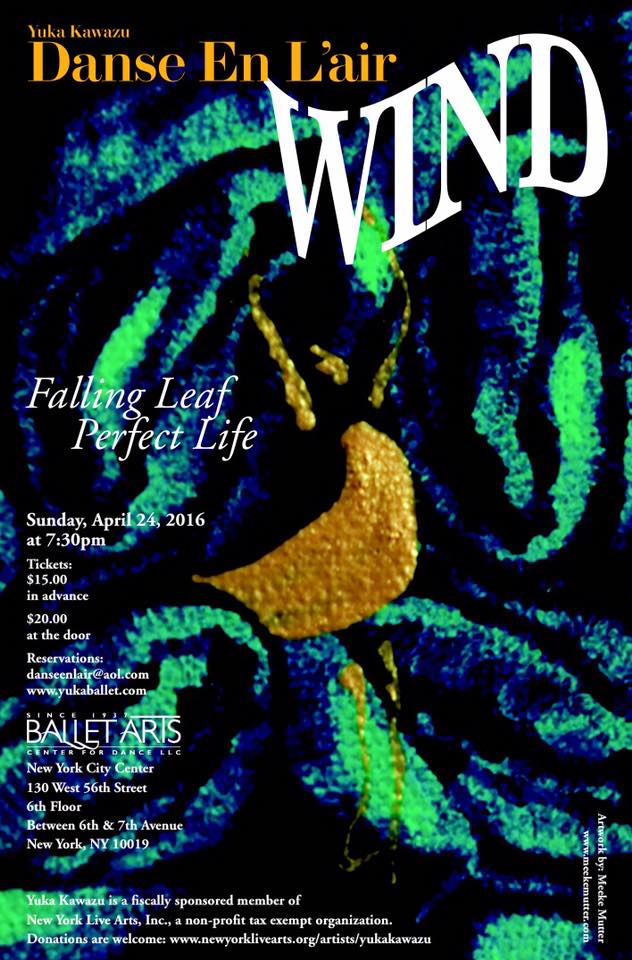 This Sunday, April 24, NYC-based choreographer Yuka Kawazu's company, Danse En L'air, will present its one-evening performance, Wind, at Ballet Arts in New York City Center. The production features a collection of NYC freelance dancers and utilizes artistic collaborations of various media.
Kawazu's choreographic vision uses the traditional ballet form combined with the expressiveness and immediacy of theater dance, in an effort to make Danse En L'air accessible to all audiences.
"My goal as a choreographer is to make ballet enjoyable for everyone to watch, and I hope for them to leave with a warm feeling," Kawazu tells Dance Informa.
For Wind, Kawazu will present nine original works, with one world premiere. She has partnered with composer Joe Gianono, who wrote Sayadio and the Magic Cup, music based on a Native American Indian legend. Kawazu has also used the artwork of painter Meeke Mutter, who most often paints dancers, for Wind's flyers and posters. Kawazu shares that, in the future, Danse En L'air will premiere works using Mutter's artwork as a backdrop.
Aside from choreographing the evening, Kawazu has also designed and constructed costumes for three of her company's pieces, Melancholy, Rain and Wind and the Sculpture.
Kawazu, who is on faculty at Broadway Dance Center, Peridance Capezio Center and Ballet Arts, has invited some of her dance students to perform among the professional dancers in some of the evening's works.
"I like to give my students the opportunity to perform as part of the learning process," she explains.
Tickets for the Sunday evening (7:30 pm) performance of Wind are $15 in advance and $20 at the door. Reservations can be made by emailing danseenlair@aol.com. Ballet Arts is located at 130 West 56th Street, on the sixth floor of New York City Center.
To learn more about Yuka Kawazu and Danse En L'air, visit www.yukaballet.com.
Image: Danse En L'air flyer, with original artwork by Meeke Mutter.