Arts Ballet Theatre of Florida Receives Grant from Target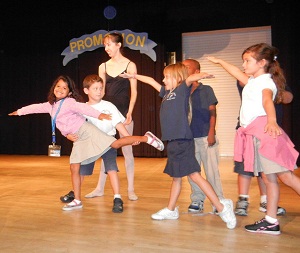 Arts Ballet Theatre of Florida has announced that its 2012-2013 Arts Ballet Goes To School program was awarded a grant from Target Corporation in recognition of the efforts of Arts Ballet Theatre of Florida in offering free outreach educational cultural programs to children of Elementary public schools in Miami Dade County, engaging them in ballet and music experiences, increasing their knowledge of and interest in both types of artistic expression.
The grant will support Arts Ballet Theatre's program Arts Ballet Goes to School, an in-school curriculum for elementary schools in Miami-Dade County and at the Arts Ballet studios in North Miami Beach . The program runs for four weeks prior to each of Arts Ballet's professional productions of the season.
Schools are visited to provide a well-rounded presentation designed to increase knowledge, appreciation, and participation in classical ballet and music, engaging students of all ages. The children participate by interacting with the dancers, learning steps on stage and participating in musical exercises. A supplementary guide is given to the children to encourage them to read about the activity they just experienced, giving them a better understanding of ballet and music.
For the after school programs, Arts Ballet provides one hour-long activity per week for four weeks at their studios, introducing the children to classical ballet appreciation. Since last season, Arts Ballet has added a music appreciation component, as both art expressions are fundamental in the development of youth.
Vladimir Issaev, Artistic Director and Ballet Maestro states "We are thrilled to have the support of outstanding organizations like Target to continue our educational programs which have been in existence for 14 years. We have already benefitted more than 8,000 students since the creation of the program, and thanks to the generosity of Target, as well as the local resources from Miami Dade Department of Cultural Affairs and the Miami Children's Trust, we will continue to bring the classics to new generations."