Aspen Santa Fe Ballet returns to Chicago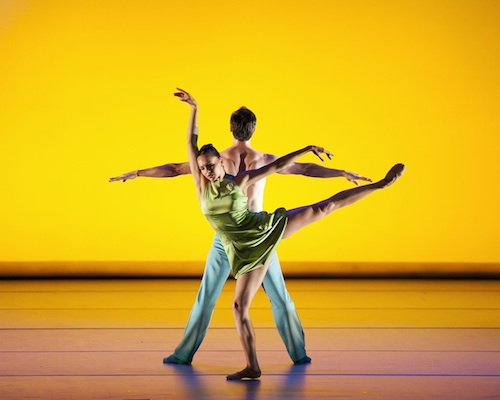 This fall, Aspen Santa Fe Ballet, the innovative contemporary dance company from the American West, returns to the Harris Theater in Chicago for one performance only on Saturday, October 5 at 7:30 p.m. It will be the company's first visit since May 2011 when they last performed at the Harris.
For its 2013 visit, the company presents an evening comprised entirely of works commissioned by ASFB. The bill features three dances by leading international choreographers Jorma Elo, Cayetano Soto and longtime Chicago dancer/choreographer Alejandro Cerrudo (from Hubbard Street Dance Chicago.)
Finnish choreographer Jorma Elo's Over Glow will be presented set to music by Mendelssohn and Beethoven. This work for six dancers features a series of duets and ensembles in front of a bright, color-shifting backdrop. Over Glow was commissioned by Aspen Santa Fe Ballet in 2011 and is the third original commission and fourth work overall by Elo in the company's repertory.
The company will also perform Spanish choreographer Cayetano Soto's Beautiful Mistake, a work for nine dancers set to music by Ólafur Arnalds and Charles Wilson that just saw its world premiere in Aspen this past July. This is Soto's fourth work with the company, including his piece Uneven which Chicago audiences had a chance to see in the 2011 Chicago Dancing Festival.
Rounding out the program is another ASFB original commission, Last by Alejandro Cerrudo, resident choreographer and dancer with Hubbard Street Dance Chicago. Despite Cerrudo's regular choreographic presence in Chicago, this will nevertheless be Chicagoans' first look at this work, a 2012 premiere, and the first time a company other than Hubbard Street has presented his work locally.
Single tickets range from $25 to $75 and are available now through the Harris Theater Box Office, by phone at 312-334-7777 or online at www.harristheaterchicago.org. For more information on Aspen Santa Fe Ballet, visit www.aspensantafeballet.com.
Photo: Aspen Santa Fe Ballet's Sam Chittenden and Samantha Klanac Campanile in Jorma Elo's Over Glow. Photo by Sharen Bradford.