Atlanta Ballet announces exciting tours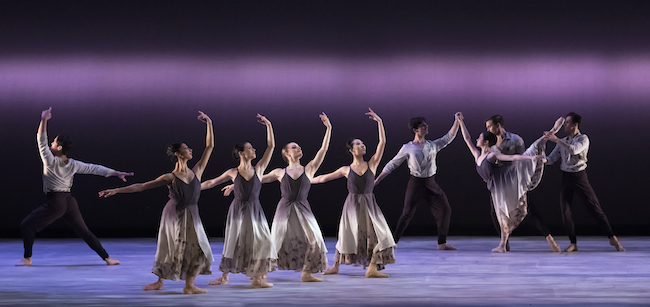 For the first time in more than five years, Atlanta Ballet will venture beyond its stomping grounds to perform on national and international stages, including The Kennedy Center Opera House in Washington D.C. and the State Opera theatre in Prague, Czech Republic.
Following a wildly successful world premiere at Atlanta's Fox Theatre in December 2018, Atlanta Ballet has been invited to present its brand-new production of The Nutcracker at The Kennedy Center for seven performances from November 27 through December 1, 2019. This was former San Francisco Ballet principal dancer Gennadi Nedvigin's first big production since he came on board as Atlanta Ballet's fourth artistic director in 2016, and, with ticket sales exceeding all previous sales records in Atlanta Ballet's Nutcracker history, the production proved to be a reflection of his overall vision for the company and the incredible direction in which it's headed.
The production features stunning choreography by Yuri Possokhov, San Francisco Ballet's acclaimed in-house choreographer, and harkens closely to E.T.A. Hoffmann's original 1816 tale. Performed with the Kennedy Center Opera House Orchestra to Tchaikovsky's timeless score, the production includes larger-than-life sets and bold costumes enhanced by striking video projections, created by a world-class creative team that includes Tony Award-winning and -nominated designers.
"The invitation to bring our awe-inspiring production of The Nutcracker to The Kennedy Center is an outstanding achievement and a testament to the company's growth," said Nedvigin. "We are honored to have the opportunity to perform on one of the most prestigious stages in the nation, and to give Washington audiences the chance to be the first to see this incredible production outside of Atlanta."
Further strengthening its recognition abroad, Atlanta Ballet will venture to Prague in February 2020 as part of an exciting transatlantic partnership with Czech National Ballet. Headed by Artistic Director Filip Barankiewicz, the Czech National Ballet has played a major role in the development of Czech ballet art, owing not only to its stature but also it being the largest dance company in the Czech Republic. Czech National Ballet offers contemporary theatre with a singular artistic flavor drawing upon Prague's enchanting multicultural milieu.
Nedvigin and Barankiewicz met in February 2016 at the prestigious Grand Audition in Barcelona, where the then-recently appointed artistic directors discussed the idea of a cultural exchange. A special performance by Czech National Ballet dancers was featured in Atlanta Ballet's Return to Fall program in September 2018, and to bring the artist exchange full circle, Atlanta Ballet will appear as special guest performers in Czech National Ballet's 2019|2020 Season. In February 2020, seven members of Atlanta Ballet's professional company will be traveling to Prague to perform a section of Craig Davidson's Remembrance/Hereafter, which Atlanta Ballet premiered in its 2017|2018 Season.
"Touring gives dancers the opportunity to experience other companies and gain the freedom to express themselves in a new space," said Nedvigin about the opportunity to bring Atlanta Ballet to the world stage. "It was a pleasure to host Filip and the talented Czech National Ballet dancers in Atlanta at the beginning of this performance season, and we enjoyed giving Atlanta audiences the chance to experience the energy and artistry of the Czech dancers without having to hop on a plane. We are excited to share our repertoire abroad next season and represent Atlanta as a growing cultural epicenter that offers world-class art."
For further details on Atlanta Ballet's 2019|2020 performance season, stay tuned for the official company announcement on March 20. For more information about Atlanta Ballet, visit www.atlantaballet.com.
Photo: Atlanta Ballet in Craig Davidson's Remembrance/Hereafter. Photo by Gene Schiavone.