Atlanta Ballet names resident choreographer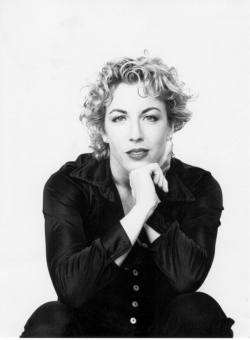 Impressive. Beautifully lyrical. Stunning. Strange and wonderful concoction. Unconventional. Clever. Whether describing one of her avant-garde works or simply summing up her unique movement style, words and phrases like these flow throughout the reviews of choreographer Helen Pickett.
Atlanta Ballet's Artistic Director John McFall discovered her in 2010 and hasn't let a season pass since without putting one of her works on stage. Now the collaboration with one of the world's brightest choreographic rising stars and Atlanta Ballet is cemented. McFall has called upon her to be the company's resident choreographer – a 3-year commitment that includes new works and an annual, one-week "Choreographic Essentials" workshop.
The announcement was made in tandem with the rollout of Atlanta Ballet's new 5-year strategic plan, which specifically called for the addition of a resident choreographer as a major component of its artistic strategy.
Over the past few years, Atlanta Ballet has experienced a quasi-renaissance, marked by new leadership [addition of veteran arts leader Arturo Jacobus as executive director], a new headquarters and a wildly successful capital campaign.
McFall has also sharpened the company's focus artistically. He has renewed commitment to creativity, innovation and signature works to establish the Atlanta Ballet brand as preeminent in the Southeast and one of the most distinctive in the world of dance.
"When thinking about our next steps as a ballet company and the artistic profile we wanted to build, Helen's was a name that continued to resonate with me," McFall said. "From my first encounter, I knew she was special – the kind of artist our dancers needed to work with and the kind of artist our audiences needed to see. She brings a passion into the studio that's unmatched and connects with our dancers in a way that is earnest and heartfelt. She inspires them to reach deep inside themselves, and it translates to the stage in a way that is startling and wonderful. We're lucky to have her."
Pickett has presented on stages all over the world. Her initial collaboration with Atlanta Ballet was in March 2011 when McFall commissioned her Petal for the company's Fusion program. It was a highlight of the night and the season.
"The audience was taken in by Pickett's Petal, a lushly hued, musically driving, sensually inventive and tactilely expressive look at human relationships," said ArtsATL dance critic Cynthia Bond Perry. "Energized dancers propelled through space…all done with a glowing physicality that spontaneously brought the audience to its feet, startled by its extreme beauty, sensuality and effervescence."

For the 2011-12 season, McFall commissioned a world premiere from Pickett for the company's New Choreographic Voices program. Pickett's Prayer of Touch was another instant hit, illustrated by enthusiastic audience response and praising reviews.
A San Diego native, Pickett began her dance career as a student under the direction of Lew Christensen and Michael Smuin and, later, Helgi Tomasson with The San Francisco Ballet. She then spent more than a decade with Ballet Frankfurt, achieving principal status, under the legendary William Forsythe. Pickett soon began to develop her own voice as a dancemaker and in 2005 received her first choreographic commission from Boston Ballet. Now, seven years later, Pickett has choreographed more than 20 works and has easily become one of the most sought-after choreographers in dance today.
"Helen is a perfect choice," said AB Executive Director Arturo Jacobus. "She is innovative and fresh, and she brings to this company the Forsythe legacy, along with her own unique voice and growing reputation. I know she will have a significant impact on the artistic DNA of Atlanta Ballet."
As a nod to her new position and promise of what's to come, Atlanta Ballet will reintroduce its patrons to Pickett this 12-13 season. Both Pickett's Petal and Prayer of Touch will be presented in anticipation of a Pickett world premiere for the Company's 13-14 season.
For more information on Helen Pickett or Atlanta Ballet, visit www.atlantaballet.com.
Photo: Helen Pickett. Photo courtesy of the Atlanta Ballet.