Atlanta's Dance Canvas hosts 5th season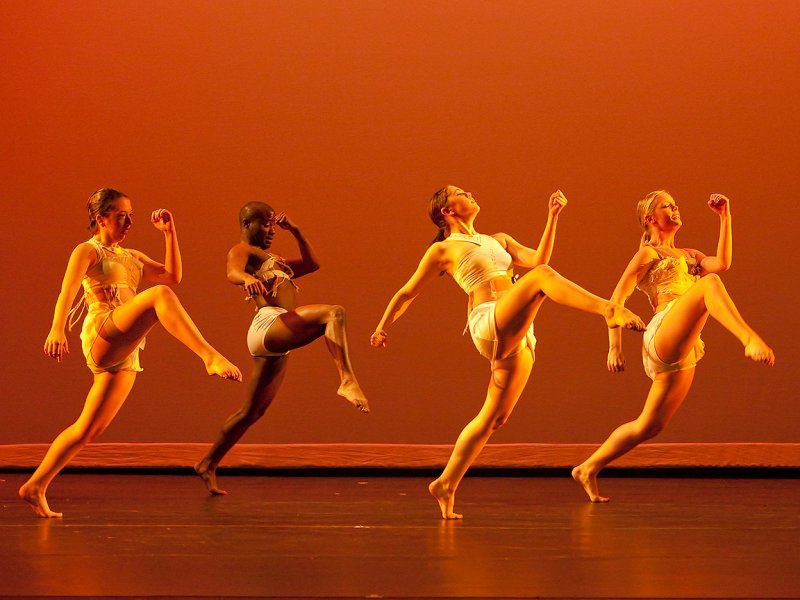 Serving as a platform for emerging professional choreographers, Atlanta-based Dance Canvas has recently announced its 2013 performance and event series. The year will kick off with a showcase featuring 10 budding choreographer's works on Jan. 18 and 19.
In its third year, the showcase will feature works by regional dancers Kassandra Newberry, Vanessa Chisolm, Rachel Kingtson, Gierre Godley, Tianna Sykes, Tracy Vogt, Angela Harris, Kendall Grant and Robert Mason, along with a special presentation through Dance Canvas' Kennesaw State University Choreographic Partnership.
Producing works and community initiatives since 2008, Dance Canvas has grown to become a multi-faceted dance resource in Atlanta, reaching hundreds of arts lovers and new audiences annually through engaging local performances. Each year, Dance Canvas works with 10 emerging choreographers to create and present new work, highlighting the diverse artistic voices of these new dance artists.
Additionally, Dance Canvas has a youth development track that includes a summer dance/career development program (DC NEXT), a summer jobs program in partnership with the City of Atlanta's Office of Cultural Affairs and Atlanta Workforce Development (ARTSCooL), as well as after-school enrichment programs with local non-profits.
Angela Harris, Dance Canvas' Executive Director, said the organization focuses on audience and community engagement.
"Ultimately, we want to create an exciting, relatable dance experience for Atlanta audiences. We know that the arts change lives, so we are committed to try to reach as many people as possible and get them to appreciate and enjoy professional dance," Harris said.
This commitment is evident through Dance Canvas' pARTy for ART, an annual free day of dance held each June at Atlantic Station in downtown Atlanta. Last year hundreds of people flocked to partake in the event.
Most recently, Dance Canvas has developed a choreographic partnership with Kennesaw State University's Dance Department, working closely with Dance Department Chair Ivan Pulinkala. In its second year, the choreographic partnership allows one talented student choreographer to premier their work with Dance Canvas at the January showcase before taking the piece to the American College Dance Festival.
"Our work with KSU allows a very talented young choreographer to present and get their work reviewed alongside professionals in the field. This is not an opportunity that most young choreographers have during their college experience," Harris said.
Pulikala commented, "The Department of Dance at KSU is pleased to partner with Dance Canvas and promote our collaborative mission of promoting emerging choreographic voices in the metro Atlanta area. Dance Canvas serves as an ideal venue for us to showcase the work of a student choreographer, selected after a rigorous jury and mentoring process. We look forward to our next collaboration in January."
Another valuable partnership for Dance Canvas is with the Rialto Center for the Arts Education and Outreach Department. Two partnered master classes recently kicked off Dance Canvas' 5th Anniversary Season. Through the partnership with the Rialto, Dance Canvas hosted Rennie Harris R.H.A.W. and Pierre Rigal's Companie de Danse in dance classes, both for the community and for Atlanta area youth. Last season, Dance Canvas worked with the Rialto on community classes with the viisting dance companies Trey McIntyre Project and Body Traffic.
Highlighting the start of Dance Canvas' 5th Anniversary Season, Harris was selected as Atlanta's Emerging Artist in Dance by The City of Atlanta's Office of Cultural Affairs. This award funds a new work by Harris in Dance Canvas' 2013 showcase on Jan. 18 and 19. Last season, Harris was also honored for her work by Americans for the Arts and American Express with the National Emerging Leader Award.
Tickets for the 2013 Performance Series are on sale now at the Woodruff Arts Center Box Office, via phone at 404-733-5000 or online at www.dancecanvas.com.
The performance will be presented at Woodruff Arts Center's 14th Street Playhouse, located at 173 14th Street Northeast, Atlanta. Tickets are $28 for general admission and $22 for students with ID. Group discounts are available.
Photo: Dance Canvas' 2012 Performance Series. Photo by Richard Calmes.