Audition for BDC Professional Semester!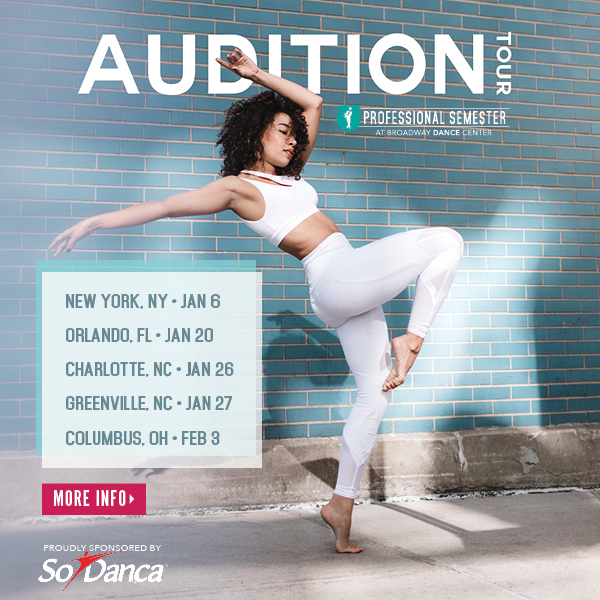 Have you heard about Professional Semester at Broadway Dance Center? This program based in NYC offers advanced technical training, professionalism skills and powerful networking opportunities to help aspiring professional dancers launch a sustainable career. The Professional Semester, which is designed for advanced dancers ages 18-27, will soon lead an exclusive audition tour!
Proudly sponsored by So Danca, the Professional Semester Audition Tour is free to register. See tour dates and locations listed below. Those dancers selected will receive guaranteed acceptance to the course (Fall 2019 or Spring 2020) and a waiver of the application fee.
The audition will be multi-disciplinary, including ballet and jazz/theater and in NYC, hip-hop and tap as well. Dancers do not need to prepare a solo as audition material will be taught on-site. However, they should bring a headshot and their résumé. Should a dancer be accepted, BDC will instruct them on other application materials needed to secure their spot.
Note that if you cannot attend one of these in-person auditions, BDC will still be accepting video submissions as detailed here.
Contact ProSemester@bwydance.com for more information on how to apply.
Professional Semester Audition Tour
Jan 6 | New York, NY
Broadway Dance Center
Jan 20 | Orlando, FL
Marshall Ellis Performing Arts Center
Jan 26 | Charlotte, NC
University of North Carolina at Charlotte (UNCC)
Jan 27 | Greenville, NC
East Carolina University (ECU), School of Theatre and Dance
Feb 3 | Columbus, OH
Ohio State University