Auditions set for BDC Professional Semester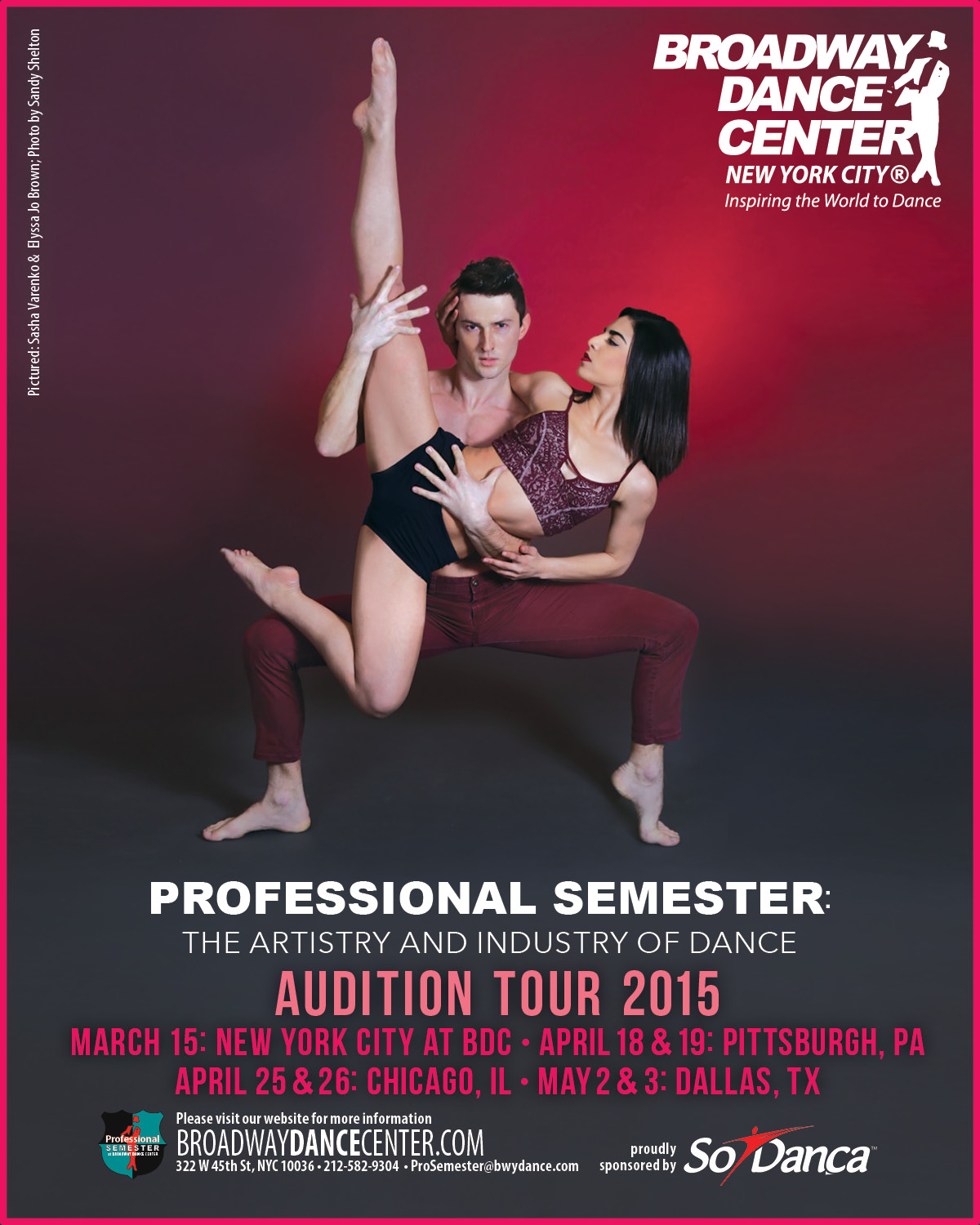 Broadway Dance Center offers its Professional Semester as an elite training program for advanced dancers ready to take their artistic and technical training to the next level. In addition to offering technique and choreography classes, the program offers dancers an education in pragmatic branding, marketing and professionalism, plus powerful networking opportunities with agents and casting directors to help them launch a sustainable career in dance.
The Professional Semester will hold auditions in New York City, Pittsburgh, Chicago and Dallas. Auditions are for the next three semesters – Summer 2015, Fall 2015 and Spring 2016. Those selected will receive guaranteed acceptance to the course and a waiver of application fee. BDC will still be accepting video submissions as explained in the application process.
The first audition will be March 15 at Broadway Dance Center in NYC. Dancers should sign in by 6:30 p.m. on the ground floor. Auditions in Pittsburgh, PA will be held April 18 from 6 to 8 p.m. at Millennium Dance Complex and April 19 from 6 to 8:30 p.m. at Point Park University. In Chicago, IL, auditions will be held April 25 from 4 to 6:30 p.m. at Gus Giordano Dance School and April 26 from noon to 3 p.m. at Columbia College of Chicago. Lastly, auditions will conclude in Dallas, TX on May 2 from 10 a.m. to 2 p.m. at Southern Methodist University and on May 3 from noon to 2 p.m. at Dallas Power House of Dance.
Interested dancers should bring their headshots and resumes to auditions. The auditions are multi-disciplinary, including sections in ballet, jazz/contemporary, theater, hip-hop, and tap.
This course is the ideal option for well-trained dancers looking to launch their professional careers. Whether they're a graduate of a university dance program, a current student looking to spend a semester dancing in the field, a recent high school graduate hoping to broach the dance industry, or a currently working professional looking for an intensive course to hone their skills, The Professional Semester offers the practical coursework needed to establish oneself as a working dancer.
For more information on the four-month Professional Semester experience, visit broadwaydancecenter.com.