Ballerina creates online space for unapologetic Blackness in ballet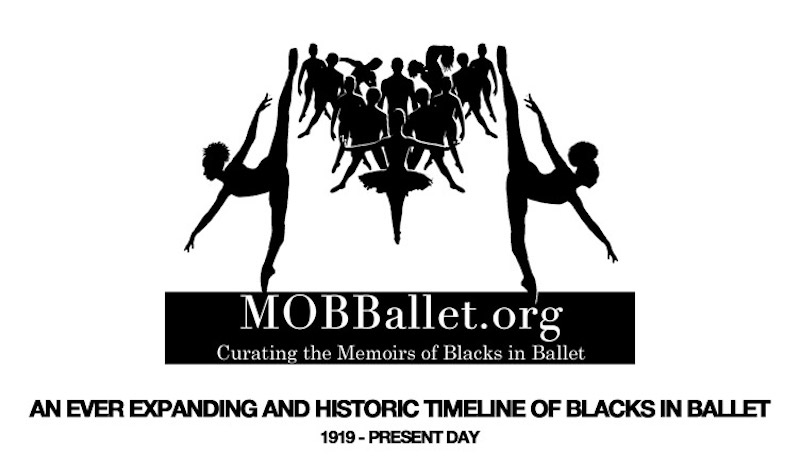 What does the Black Lives Matter movement have to do with ballet? For Theresa Ruth Howard, a Black ballerina, racial equity consultant with major ballet companies, and creator of digital legacy project, The Memoirs of Blacks in Ballet (MoBBallet)—her mere presence in the art form is an act of resistance. This summer, Howard's work to bring racial justice to ballet continues with the launch of an online conference centering Black dancers: MoBBallet Virtual Symposium, August 14, 15, 21, 22 & 28, 2020.
Howard describes the symposium as a "virtual village" where Black dancers can be themselves, though non-Black "allies, co-conspirators, and anyone open and interested in sharing the love of ballet" are welcome. Offering a variety of different sessions via Zoom, the symposium will provide community dialogue, educational resources, mentorship and more centered around the needs and lived experiences of Black dancers.
"The act of resistance takes on many forms, some bold, brazen and confrontational like marches, boycotts, flooding one's Instagram with messaging. And there are also more subtle forms of resistance," Howard said. "The presence of Blacks in classical art forms is a form of resistance. Our bodies, occupying white spaces, mastering and excelling in forms we were barred from is resistance. Because in truth our very existence is the greatest resistance there is."
Following the murder of George Floyd and countless others, the demand for racial equity has become impossible to deny in practically every avenue in society, including the arts. In ballet specifically, an art form that historically excluded Black people as artists and audience members, Black and Brown dancers are still noticeably absent from company rosters and from leadership roles.
The 16 sessions offered during the three August weekends will feature artists, and/or artistic leaders, from prestigious ballet companies such as Pacific Northwest Ballet, Boston Ballet, New York City Ballet, School of American Ballet, Ballet Austin, Texas Ballet Theatre, Ballet Memphis, National Ballet of Canada, Pittsburgh Ballet Theatre, Pennsylvania Ballet, and more. Symposium attendees can learn more about the history of colorism in ballet, and attend sessions combating implicit bias in dance curriculum, and activating one's social justice activism.
Ranging from 60 to 80 minutes, the sessions vary in cost from free up to $12 as a means of compensating the artists, dance scholars, and arts administrators involved. Specific workshops to support dance educators, parents, board members of ballet companies, and professional dancers will also be offered.
Speakers featured throughout the conference include Charmian Wells, Ph.D in dance studies and cultural historian; Adesola Akinleye, Senior Dance Lecturer at Middlesex University, UK; Chrystyn Fentroy (Soloist, Boston Ballet); Jermel Johnson (Principal, Pennsylvania Ballet); Donald Byrd (Spectrum Dance Theater) and more. The symposium will also feature numerous dance historians, dance educators, dance college program representatives, and more.
"In the wake of the COVID-19 crisis, the great loss of life in the Black community, and the uprisings for racial and social justice, we need a space to commune, share our sentiments, concerns, hopes and dreams," Howard said. "The MobBallet symposium offers a chance to empower and provide healing for Black people within the art of ballet."
For more information on each session, including cost, go to mobballet.org.