Ballet Arizona shares holiday cheer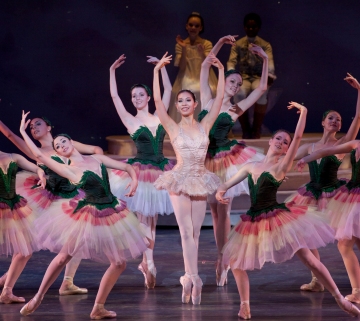 The Phoenix Public Transit Department is partnering with Ballet Arizona to bring a beloved holiday tradition back to city streets – a decorated holiday bus. The two organizations will launch the Nutcracker Holiday Bus at 8:30 a.m. on Nov. 19 from Phoenix Symphony Hall, located at 75 N. Second Street. Costumed dancers, ballet and city VIPs will be in attendance for the unveiling.
The festive vehicle will be decked out in ballet-inspired décor, including a 40-foot bus wrap of the valiant Nutcracker and delicate dancing snowflakes; dancers' sparkling toe shoes, and hand-painted decorations created by youth performers in this year's production. The Nutcracker Holiday Bus will run on local routes throughout Phoenix Nov. 19 – Dec. 26.
"The holiday bus was a popular tradition that delighted our passengers," said Neal Young, Phoenix Public Transit Department Interim Director. "It's great that this partnership with Ballet Arizona allows us to bring back the holiday cheer, and offer an artistic experience for our riders."
As part of the collaboration, all public transit riders will receive 20 percent off tickets to Ballet Arizona's performances of The Nutcracker on Dec. 8 and 9. Riders can use promo code "TRANSIT" when ordering online or they can show their Valley Metro transit pass at the box office at Symphony Hall on the day of the performance to receive the discount.
The Nutcracker Holiday Bus will also be on display at Ballet Arizona's Nutcracker Festival on Dec. 2 at El Charro.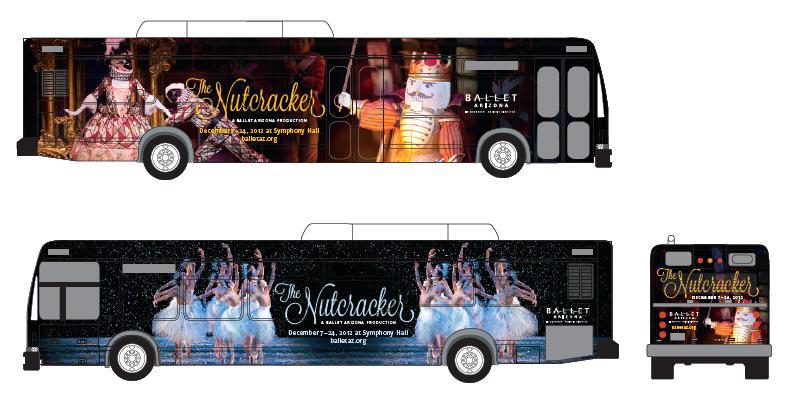 "With the Nutcracker Holiday Bus the magic of ballet gets to the broader community in a wonderful and unexpected way," said Ballet Arizona's Executive Director Alison Johnston. "It lets us reach people who may never have seen professional dance before and invite them to experience this holiday tradition with us."
The Phoenix Transit Department is also a sponsor of Ballet Arizona's Angel Night on Dec. 6, which brings low income and underprivileged youths to performances of The Nutcracker for no charge.
Additionally, during the run of the Nutcracker Holiday Bus, Ballet Arizona's website will feature contests for sightings of the bus around town, links to find the bus on local routes and photographs of the "magic in motion."
More information about the Phoenix Public Transit Department is available online at www.phoenix.gov.
Ballet Arizona's performances of The Nutcracker will be held Dec. 7 – 24 at Symphony Hall. More information is available at www.balletaz.org.
Top Photo: Michelle Mahowald in Ballet Arizona's The Nutcracker. Photo by Rosalie O'Connor. Bottom photo: The Nutcracker Holiday Bus. Photo courtesy of Ballet Arizona and the Phoenix Public Transit Department.