Ballet Arizona to Break Ground on New Home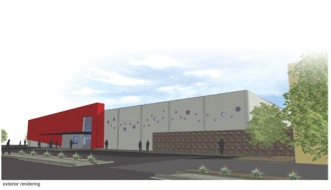 On October 9, 2012 at 9 am, Ballet Arizona's corps of dancers, patrons and staff will join Phoenix civic and community leaders to kick off the construction of Ballet Arizona's highly anticipated new home located at 2835 East Washington Street, Phoenix.
The 45,000 square foot, feature-rich center is expected by ballet and city leaders to be an active and transformative community hub. Formerly the Walsh Bros Warehouse, the innovative new space will boast: upgraded, spacious rehearsal studios; additional studios and classes, allowing room for more students and expanded curriculum for the School of Ballet Arizona; and a black box theater with capacity to seat 299 people.
"We expect our attendance to double, even triple, in the near future," said Ib Andersen, Ballet Arizona's Artistic Director. "The expanded studio space also expands our capacity to develop dancers through our school, creating a training program for dancers to join our main company. It will increase local students' opportunity to learn their craft and stay here."
---