Ballet Hispanico at The Joyce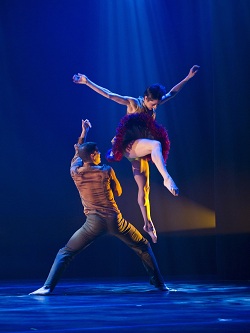 Ballet Hispanico, recognized as the preeminent Latino dance institution in the United States, returns to The Joyce Theater for its annual New York Season this April 17-29, 2012. This year's program pays tribute to the richness and range of the company's Latino roots, the diverse talents of the dancers, and African and Caribbean influences.
Works to be performed include a world premiere, Espiritu Vivo, created especially for Ballet Hispanico by Ronald K. Brown and set to music by Afro-Peruvian Latin Grammy Award winner Susana Baca, who will perform live during Program A; the Joyce premiere of Asuka, Artistic Director Eduardo Vilaro's first work for the company, an exuberant homage to salsa legend Celia Cruz; and the New York Premiere of Annabelle Lopez Ochoa's Nube Blanco.
For tickets and more information visit www.joyce.org
Photo: (c) Paula Lobo