Ballet Pianist Workshop being held in Orlando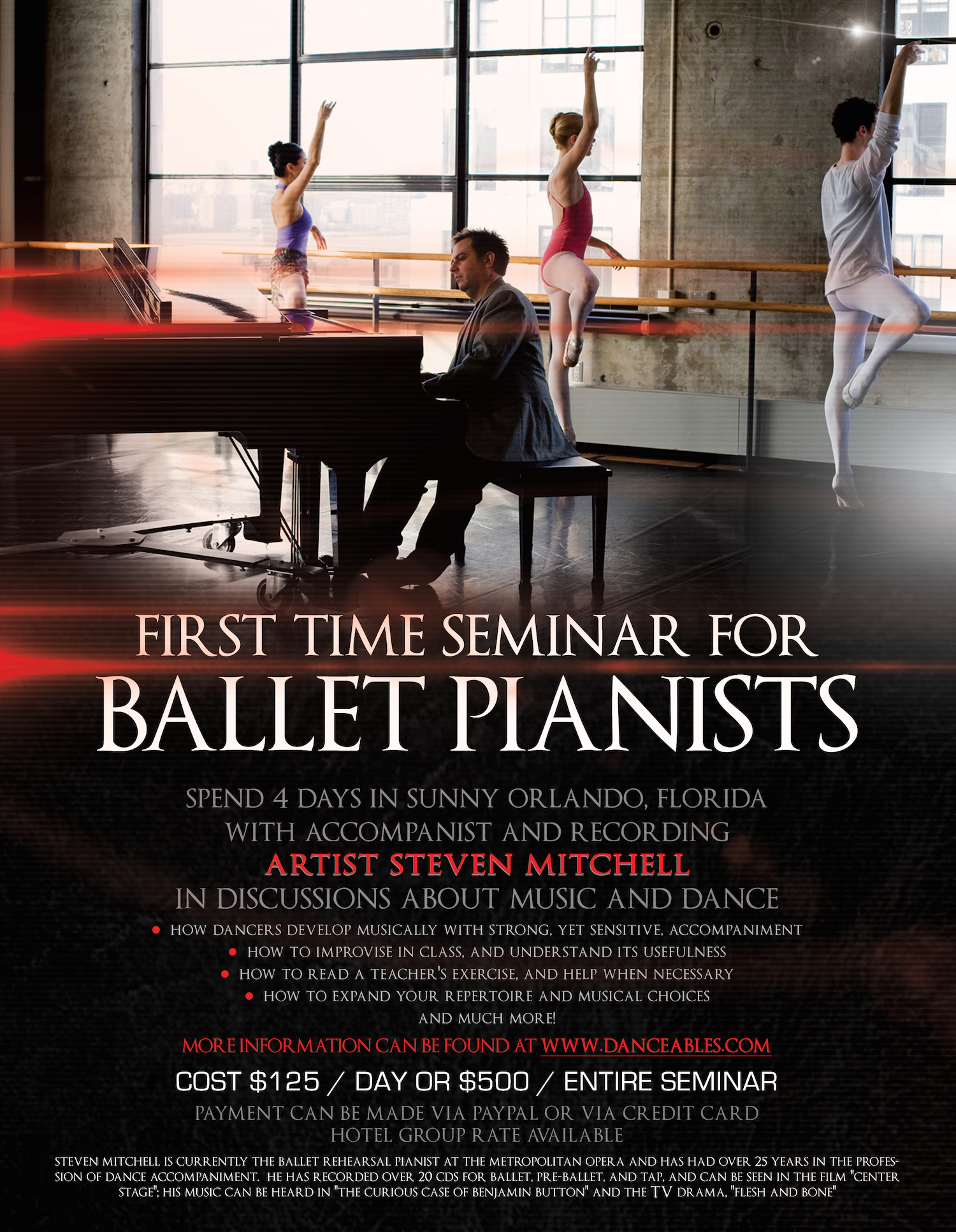 Steven Mitchell, a respected ballet class pianist who plays for the Metropolitan Opera, at Steps on Broadway and for other companies, will soon host a four-day seminar for ballet pianists in Florida.
This is a rare opportunity for pianists to learn more about accompanying dance. Often there are few training opportunities presented for new ballet and dance accompanists, who find themselves spending many hours then learning to collaborate with dancers on the spot and pick up on subtle cues for dance classes, rehearsals and auditions.
Now Mitchell is amending this by lending his expertise to those pianists interested. They're invited to spend four days in sunny Orlando, home of Walt Disney World, learning and training – the perfect way to merge a little education with a fun vacation!
At the seminar, participants will learn by watching Mitchell play ballet classes for the Orlando Ballet School's Summer Intensive. They'll be inspired to try new ways of accompanying in their own schools.
Mitchell's approach to accompaniment is inspired by famous choreographer George Balanchine's view of dance: "See the music. Hear the dance." By tailoring music to underscore movement, the combination of sound and motion helps to develop the most musical dancers.
This workshop—scheduled for July 13-16—will help lay a foundation for a successful ballet-accompanying career. Attendees will arrive July 12 and leave on July 16. For the three days in between, they'll observe two ballet classes per day, with a discussion each evening to review.
Topics for the seminar include: what is "musicality" in a dancer; who holds the responsibility for the development of musicality; understanding basic knowledge of time signatures and class structure; how to "read" a teacher's musicality and accommodate him/her; how to professionally agree to disagree; professional classroom etiquette; how improvisation helps to enhance the movement; and how to choose and implement appropriate repertoire.
For further details, visit http://danceables.com/Workshop.jsp. Read more about dance class accompanists, including Mitchell, in this article from Dance Informa's December 2013 edition: www.danceinforma.com/2013/12/03/a-look-at-dance-class-accompanists