Ballet shoe emoji slated to come out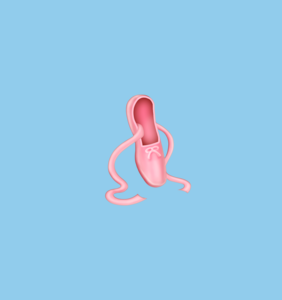 Just about all our non-dance friends' hobbies have one — an emoji that is. There are emojis for swimming, soccer, surfing, rock climbing, canoeing, fencing and the list goes on and on. But ballet? Nope. At least not till this year, when it was announced a ballet shoe emoji is on the way.
Emojipedia, the online platform for all things emoji-related, revealed that this new ballet shoe emoji is slated to come out later this year (exact date pending). Accepted as part of "Emoji Version 12.0", the emoji's initial proposal came from a ballet fan named Rüdiger Landmann, who happens to be a tech company manager based in Australia.
Landmann submitted three different ballet emojis in his proposal — a ballerina, a male ballet dancer and a pair of pointe shoes. For this version, the pointe shoe emoji was the only one to make the cut. (Some critics have said that it has more similarities to a loafer than pointe shoes though.)
Besides the ballet shoe emoji, Emoji Version 12.0 will include some other exciting additions. For one, there will be a new group of accessibility emojis (about time!), including a person in a wheelchair, a person with a cane, a deaf person and so on.
As a dancer, which emoji would you like to see next? Tap shoes? A tutu? A ballroom couple? The Dance Informa team would certainly like to see more stylistic diversity!