Ballet Tech Kids Dance In Four Classics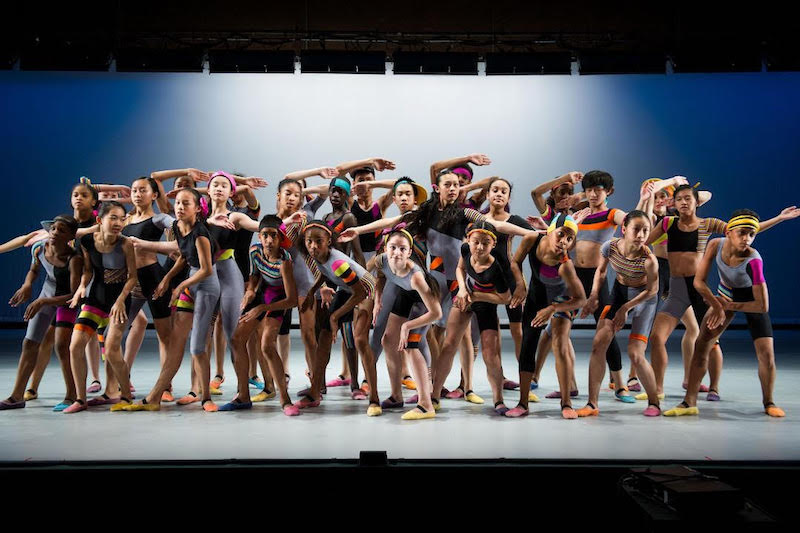 Ballet Tech KIDS DANCE returns home to The Joyce Theater for six performances of Feld classics, June 6 to 9. Sixty-three whiz-kids, ages 11 to 18, will take the stage with four, founding director, Elliot Feld favorites: Hello Fancy, KYDZNY, Joggers and A Stair Dance.
Critic Elise Giannotti began her review of Kids Dance with "To quote William Shakespeare, 'Though she be but little, she is fierce.' True for all the performers of Ballet Tech. Eliot Feld created a full-time, tuition-free dance program for fourth through eighth graders. I realized I would be attending a student production that afternoon, but I had no clue that it would be such an exceptional, uplifting experience." (Broadway World)
Feld's A Stair Dance, dedicated to Gregory Hines, will open the program. Anna Kisselgoff found the quintet "dazzling," adding that it was "a must-see" ballet. (The New York Times) Robert Greskovic found that "Watching it can conjure images of a young Shirley Temple dancing on stairs with Bill 'Bojangles' Robinson, or it can reach new audiences as a fresh, delectable exercise for five willowy young dancers in sneakers percussively picking, planting and striding their squeaky way up, down, around and over five sets of stairs. The entire cast displayed both remarkable concentration and playfulness as they followed Mr. Feld's intricate patterning set to Steve Reich's 'Tokyo/Vermont Counterpoint'." (Wall Street Journal)
KYDZNY is a bubbly Balkan piece effervescently danced by 39 remarkably poised and impeccably rehearsed kids. The music, by the Raya Brass Band, "layers traditional Balkan melodies with lively jazz and funk." (Gia Kourlas, The New York Times, June 2014).
The effervescent Joggers is set to a bouncy score by contemporary Dutch composer Dick Koomans. Created in 1997, the trio "adroitly mixes relaxed jogging with ballet and stylized bits of other track moves. But its greatest charm is the way it uses its young dancers' freshness and innocent intensity of focus." (Jennifer Dunning, The New York Times, April 1999). Our 2019 joggers are Roman Lattanzio, Alvin Soon, and Kelly Xia.
Hello Fancy was Feld's first dance created for the children in the Ballet Tech school. Two of the original cast members, in fact, are now on the Ballet Tech board (Patricia Tuthill Pazner and Rachel Alvarado Moreno). Set to John Playford's "The English Dancing Master," the dance for 33 youngsters was premiered at The Joyce in 1992 and last performed in 2006.
For more info go to www.ballettech.org
Reservations: 212.242.0800 or www.thejoyce.org
Image Courtesy of Ballet Tech