Ballet Tech's Kids Dance returns to Joyce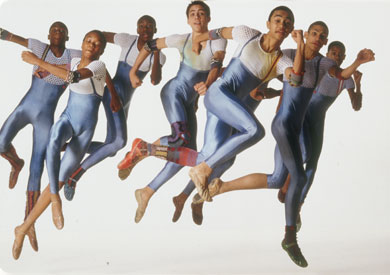 The irrepressible Kids Dance, an ensemble of 40 young dancers aged 9 to 14 from Eliot Feld's Ballet Tech School, will return to The Joyce Theater in New York City on June 12-15 for five performances.
Known as the NYC Public School for Dance, the Ballet Tech School trains the dancers in various movement disciplines as well as encourages their individual creativity. The ensemble will present three Feld works in their 2014 Joyce season, including the premiere of KYDZNY, set to music by Brooklyn's own Raya Brass Band.
Raya Brass Band will perform live in a special feature on Thursday, June 12 at the opening performance. For the premiere of KYDZNY, they'll present their soul-shaking, border-defying dance music that infuses traditional Balkan melodies with American jazz and funk. Plus, attendees will receive champagne (for adults) and sweets (for kids) at intermission that night.
For the Joyce season, the dancers will also perform a crowd favorite, Feld's A Stair Dance. Following its premiere in 2004, Anna Kisselgoff wrote that it "…is in the must-see category." She continued, "Mr. (Steve) Reich's 'Tokyo/Vermont Counterpoint' finds an ingenious match in the permutations of phrases that Mr. Feld has created for his version of the old tap staircase dance. Shirley Temple, eat your heart out."
The full ensemble will also have a ball in Feld's Apple Pie, a merry hoe-down to music by Bela Fleck and Joe McCracken.
For more information on Ballet Tech, Kids Dance or upcoming performances, visit www.ballettech.org. To order tickets to the Joyce season, visit www.joyce.org or call 212-242-0800. The Joyce Theater is located at 175 Eighth Avenue in New York.
Photo: Male dancers from Ballet Tech's Kids Dance. Photo by Lois Greenfield, courtesy of Ballet Tech.