Ballet West Choreographic Fest goes global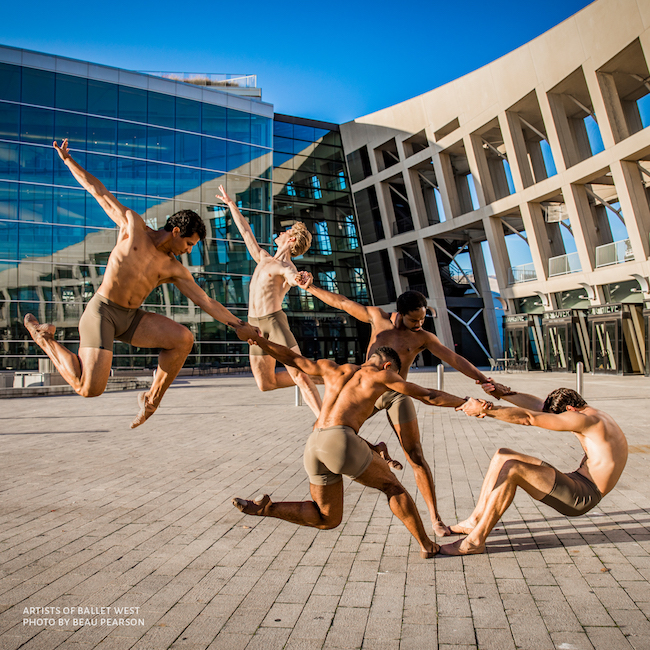 Utah's Ballet West welcomes the renowned Scottish Ballet to the line-up of the third annual Choreographic Festival at the Rose Wagner Performing Arts Center on May 9-11. Celebrating its 50th anniversary this year, Scottish Ballet, under the leadership of CEO and Artistic Director Christopher Hampson, will present Artist-in-Residence Sophie Laplane's new work Sibilo.
"I am excited that Chris chose this unique and dynamic work from Sophie Laplane," said Ballet West Artistic Director Adam Sklute. "Sibilo's quirky humor and interesting groupings make the work perfect for the Choreographic Festival as it explores movement, sound, and theatrics through the prism of ballet."
Laplane's inventive piece for eight dancers features whistling (Sibilo is "whistle" in Latin) with additional music from Glasgow's Alex Menzies that modulates from electronica to mid-century pop music. The result is hilarious, moving and eccentric.
"This year marks Scottish Ballet's 50th anniversary and we are delighted to be presenting Sibilo by Artist-in-Residence Sophie Laplane during a celebratory year for the company," Hampson said. "It is great to see Sophie's work recognized on an international level, and fitting for it to be programmed in a festival that celebrates the future of ballet."
Laplane commented, "I am delighted to present Sibilo at the Ballet West Choreographic Festival, and to see Scottish Ballet perform the work in a celebratory year for the company. As a choreographer, it is exciting to see my work being presented on an international stage, and for Sibilo to get its American premiere in a festival that programmes and celebrates new choreography."
Also on the program for the Choreographic Festival is a world premiere from celebrated choreographer and BalletMet Artistic Director Edwaard Liang, along with premieres by Ballet West artists Emily Adams, Katlyn Addison and Trevor Naumann.
This year, the festival will also offer ancillary events, adding educational and entertaining experiences. On Wednesday, May 8 at 7 p.m. at the Rose, Ballet West will screen Danseur, a recently released independent film from Scott Gormley that explores gender inequality in ballet, and shines a light on bullying, homophobia and other barriers for young men in the industry. Tickets are $8 for adults and $5 for students. Afterward, dance teacher and journalist Kate Mattingly will lead a panel discussion with Adam Sklute and Ballet West dancers.
Ticket holders are also encouraged to attend Warm-Ups in the Rose Room. These free educational lectures one hour before evening performances will be hosted by artistic directors, choreographers and dancers.
Finally, local artists will makeover the balcony of the Rose Wagner with an exhibit, "Art of Ballet" displaying the oil, photography and contemporary works showing the athleticism and beauty of the art form.
Past presenters at the Choreographic Festival include Pacific Northwest Ballet, Pennsylvania Ballet, Cincinnati Ballet and others.
"Every year I look forward to this festival. The terrific camaraderie that is built between all the companies is so inspiring. It is about taking chances. It is about seeing what other companies are doing. And it's about learning from one another," said Sklute. "This year's program will certainly take those same risks and I'm thrilled that we are welcoming our first international company. I know our audiences will be fulfilled by the exploration."
The Choreographic Festival will be held at the Rose Wagner Performing Arts Center, located at 138 Broadway in Salt Lake City, Utah. Tickets start at just $50, and are available by calling (801) 869-6900, or online at www.balletwest.org.
Photo: Artists of Ballet West. Photo by Beau Pearson.