Ballet West II's new Interim Director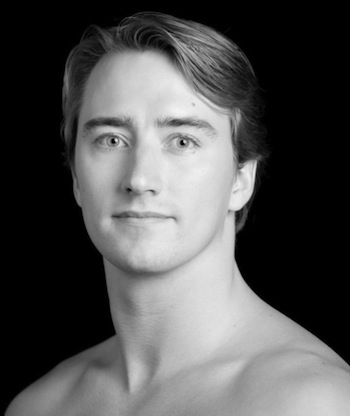 Ballet West's Artistic Director Adam Sklute has announced the appointment of First Soloist Christopher Sellars as the new Interim Director of Ballet West II. Sellars will take the reins in this additional capacity on August 5 for the 2013-14 season.
"Having begun my career as a member of Ballet West II myself, I know how exciting and terrifying it can be to come to a large, professional company at a young age," Sellars said. "I hope to draw from my own experiences over the years to make a difference in their professional lives and to build upon the exceptional leadership that has come before me."
Sellars succeeds Principal Artist Christopher Ruud, who is stepping aside to focus exclusively on his dancing and choreography. When he begins this new role, Sellars will become the fourth director of Ballet West II. Formed in 2005, Ballet West II was initially led by Academy Director Peter Christie. In 2007, former Joffrey dancer Mark Goldweber assumed the role, serving as both Ballet Master for Ballet West and Director of Ballet West II. Sadly, Goldweber passed away in December 2011.
"After Goldweber's passing, Christopher Ruud stepped in to run Ballet West II," explained Sklute. "Christopher did an exceptional job, but he and I agreed that at this time in his career he needed to focus more on his dancing and his fast-growing choreographic endeavors…I am proud to hand the Ballet West II reins over to Christopher Sellars."
An inaugural member of Ballet West II, Sellars joined the main company in 2006 before being promoted to Demi-Soloist in 2008, followed by Soloist in 2010. Sellars was promoted to First Soloist for Ballet West's upcoming 2013-14 season.
On his new appointment, Sellars said, "I am humbled to join ranks with the likes of Mark Goldweber and Chris Ruud, both of whom I hold in the highest regard."
Ballet West II, which serves as the main company's developmental troupe, is made up of 11 young and upcoming professional dancers who hail from all over the country. Having established a reputation of its own as an elite touring ensemble, Ballet West II presents both classical and modern ballet with youth, freshness and spontaneity. The ensemble tours annually throughout the state of Utah and recently has appeared on tour to cities across the U.S., including Texas, Colorado and Iowa.
For more information on Ballet West II or Christopher Sellars, visit www.balletwest.org. The main company is currently preparing to present its 50th anniversary season.
Photo: Christopher Sellars. Photo courtesy of Ballet West.