Ballet West unwraps shiny new 'Nutcracker'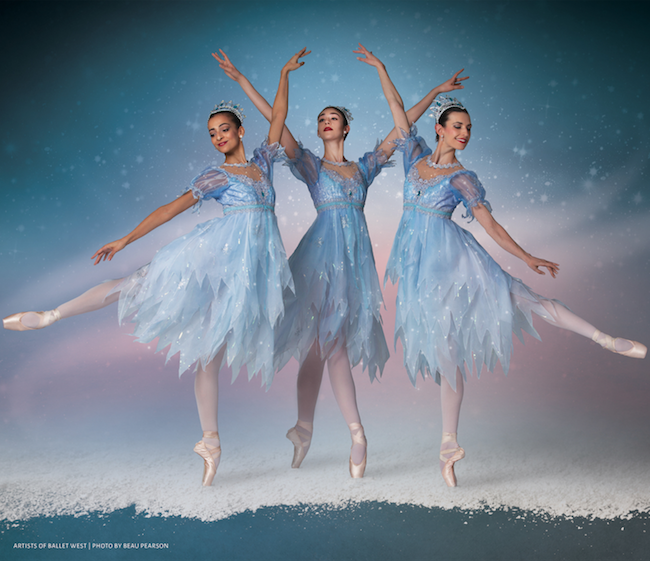 After a two-year, $3-million renovation, Salt Lake City's Ballet West is thrilled to present its updated production of Willam Christensen's The Nutcracker on December 2-30. Thanks to the patronage of The George S. and Dolores Doré Eccles Foundation, this new production will debut fresh colorful sets, polished props, sparkling costumes and whimsical special effects.
The longest-running Nutcracker in the western hemisphere, Ballet West is overjoyed to present this renewed, crisp production that will glorify Christensen's historic choreography and Tchaikovsky's beloved score.
The massive construction project that involved dozens of Utah artists was made possible by a lead gift from The George S. and Dolores Doré Eccles Foundation. Their contribution allowed a thoughtful and methodical renovation that has brought new excitement to a Utah favorite. The 24 monolithic sets, more than 180 costumes, and nearly 200 props replace a production that was approaching 30 years old.
"Costumes were fading and the scenery was held together with miles of duct tape," said Spencer Eccles, Trustee of the Foundation. "It still looked beautiful from the audience's perspective, thanks to the Ballet West crew, but we could tell it was time to invest and bring new life to The Nutcracker. This is one of the most transformational projects the Foundation has funded in the arts."
Scenery by Designer John Wayne Cook with additional designs from London-based Dick and Belinda Bird were all inspired by the dramatic and whimsical world created in E. T. A. Hoffmann's original 1816 work The Nutcracker and the Mouse King. Spectacular new lighting and projection effects are created by Burke Brown and Mike Tutaj. Utah Opera Studios was tasked to create this otherworldly environment, painting the giant canvases with the help of forklifts and constructing massive set pieces.
Ballet West Director of Costume Production David Heuvel and his team of four stitchers, milliners, drapers, mask makers and pattern cutters have spent 15 months bringing his designs to reality. Each tutu is hand-sewn with 16-yards of tulle and then adorned with 806 Swarovski crystals. With 40-hours of work in every tutu, Heuvel estimates they are worth around $8,000 each.
The production will take flight thanks to Flying by Foy, the Nevada-based company that has designed a new sleigh and flight path that will take Clara and her Prince to the stars. Along with the sleigh, other new props include swords, a cannon and the new Nutcracker doll, designed and 3-D printed in Herriman, Utah. One prop staying in the production is the grandfather clock, the same clock that was designed and built for the very first Utah production.
"We, as Utahns, should be very proud to have the first and longest running American production of The Nutcracker," said Artistic Director Adam Sklute. "I am honored to bring you all new sets and costumes for Mr. C's wonderful ballet. My goal is to create new fascination for his evergreen classic while maintaining the integrity of his choreography and Tchaikovsky's great score. We're deeply grateful to The Eccles for making it possible to create an exciting new production that will allow us to perform The Nutcracker for decades to come."
One thing that does not change are the ticket prices, which range from $20 to $88, and are available online at www.balletwest.org, or may be purchased by calling 801-869-6920. The Nutcracker opens this Saturday, December 2 and runs through Saturday, December 30, with Sugar Plum Parties immediately following most matinees.
Photo: Artists of Ballet West for The Nutcracker. Photo by Beau Pearson.