Ballets With A Twist Presents Cocktail Hour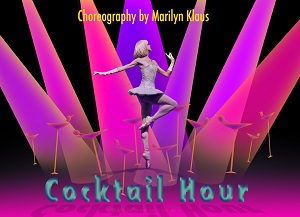 Ballet is letting its hair down and heading to Happy Hour with the upcoming performance of Cocktail Hour at New York City's most buzzed about new performance space, XL Cabaret, on Thursday, June 14 at 8:00pm.
Conceived and choreographed by critically acclaimed dance-maker Marilyn Klaus, each piece is inspired by a well known cocktail and brings one of the highest art forms to the masses in a fresh and playful way. The irreverent dance suite gives life to a variety of iconic drinks—saluting the elegance of cocktail culture as the Martini, Mai Tai, Gimlet, Mint Julep and an aptly named 'Scotch on the Rachmaninoff' spring off the menu and onto the stage.
Marilyn Klaus started dancing in California with Busby Berkeley dancer Gladys Gartman, vaudeville star Mae Murray, and with members of the Quitzow family who taught in the tradition of Isadora Duncan at their Temple of the Wings. Having also studied technique and composition with Carmelita Maracci, Ms. Klaus has presented choreography in the United States and Europe to much critical acclaim.
The performance will also feature original music by Stephen Gaboury, who has collaborated with Ms. Klaus for over 20 years. Gaboury received a Grammy nomination in 2004 for his work with pop/rock legend Cyndi Lauper and he has performed with A-list talent including Patti Labelle, Suzanne Vega and Ute Lemper. His music has also been featured in film and television. Catherine Zehr is the creative force behind the unique costume design, evoking the origins and spirit of each libation with a refreshing use of style and color.
To purchase tickets, please visit www.showclix.com/event/229725. For more information on Ballets with a Twist visit www.balletswithatwist.com