Baryshnikov Arts Center's new season begins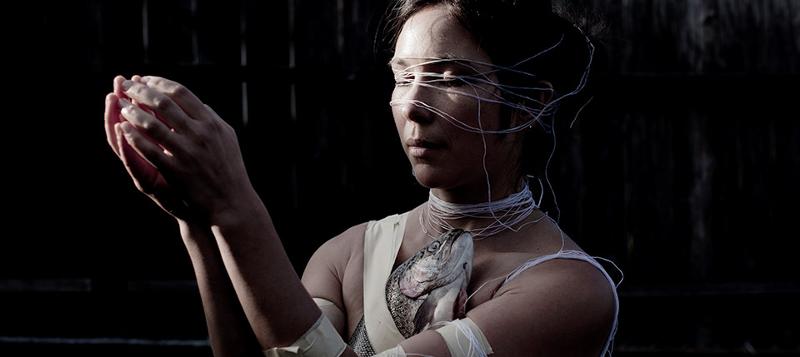 Baryshnikov Arts Center's spring season kicks off January 9 with Emily Johnson. Co-presented by Performance Space 122 as part of the 2013 COIL festival, the Minneapolis-based choreographer and 2012 Bessie award-winner returns to New York with her company, Catalyst, to perform the NYC Premiere of Niicugni.
Niicugni, meaning to pay attention or to listen, is the second in a trilogy of works drawing from Johnson's Yup'ik Alaskan heritage. Housed within a light and sound installation of handmade fish-skin lanterns, the work quietly compels attentiveness, layering multiple dances, live music, stories and histories into a space occupied by past, present and future.
Choreographer Emily Johnson has become well known in the postmodern and contemporary dance world. Since 1998 she has created work that contemplates the experience of sensing and seeing performance. Her choreography often functions as interactive installations, engaging audiences within and through a space and environment. She interweaves a place's architecture, history and role in community into her work.
Johnson successfully blurs distinctions between performance and daily life, offering fresh vantage points for viewers. Last year, she received a Bessie Award for Outstanding Production for her work The Thank-you Bar at New York Live Arts. She serves as a 2012 Headlands and MacDowell Artist in Residence, a 2011 Native Arts and Cultures Fellow, a 2012, 2010 and 2009 MAP Fund Grant recipient, as well as a 2009 McKnight Fellow.
Her current work, Niicugni, is a National Performance Network (NPN) Creation Fund Project co-commissioned by Performance Space 122 in partnership with Maggie Allesee National Center for Choreography (MANCC), Northrop, Portland Institute for Contemporary Art (PICA), Tigertail Productions and NPN.
The current tour of Niicugni brings it to Florida State University/MANCC, MassMoca, The Redfern Art Center at Keene College/Vermont Performance Lab, The Coil Festival/PS122, Tigertail, Arizona State University/Gammage Theater, Northrop Auditorium/O'Shaughnessy, Portland Institute for Contemporary Art and Bunnell St. Gallery in Homer, Alaska.
Johnson's Niicugni will be presented at Baryshnikov Arts Center, located at 450 W. 37th Street in New York City, on Wednesday through Saturday, Jan. 9-12. Tickets begin at $20. For more information visit www.bacnyc.org.
Photo: Emily Johnson. Photo by Cameron Wittig.