BC Beat showcase and dance party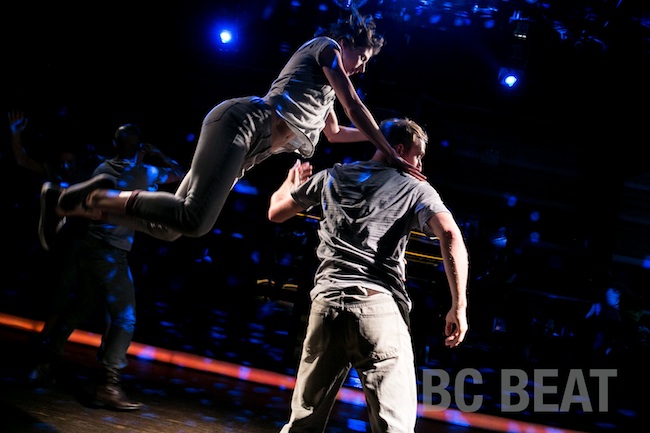 Broadway's most daring, curious and talented artists are preparing to gather at Cielo on Monday, November 11 for the Fall 2013 BC Beat, the showcase and dance party with it's own rules for sharing work and connecting artists.
Doors open at 7 p.m. and guests are welcomed by the evening's choreographers, including Charlie Sutton, Cindy Salgado, Caleb Teicher, Kyle Mullins, Tricia Brouk, Josh Assor, Rickey Tripp and Jennifer Jancuska. Performers will include Daniel Watts, Jennifer Locke, Ephraim Sykes, Aurelia Michael, Voltaire Wade-Greene, Masi Yahya James, Amber Jackson, Elizabeth Burke, Macy Sullivan, Ryan VanDenBoom, Matthew Steffens, Heather Hamilton, Shiloh Goodin, Liz Piccoli, Paul Romero, Borris York, Matty Oaks and Rachel Guest. Broadway veteran Justin Johnson will curate the music.
As a catalyst for professional development between choreographers, directors, performers and creative team members, BC Beat provides a platform for curious and innovative theatrical choreographers to share story-driven work in an inspired environment of heightened energy and intimate support. The evening is an exciting mix of choreographed work and dance party fun where the dance floor is uniquely shared with all in attendance. Participants consider BC Beat as a true gift to the Broadway community.
In three words, Declan Bennett described BC Beat as "Rad. Ace. Now." Declan, who took up residence as the original BC Beat DJ for two years, is also a writer, composer and performer on Broadway in several shows, including American Idiot and Rent. Declan is also known for landing the lead role in the West End production of Once. During his BC Beat residency, Declan presented a piece in collaboration with director and choreographer Steven Hoggett, which was later developed into a full production for Ars Nova.
Also cutting to the point, Marcos Santana described the BC Beat as "Exhilarating. Inspirational. Rewarding." Marcos was the very first choreographer to say "yes" to BC Beat. His presence and support for it amid working and traveling non-stop on projects (including the upcoming Broadway production of Rocky) has been pivotal in BC Beat's connection with Broadway's newest generation of creators.
Then, honing in on the major social benefits of the event, Richard J. Hinds described BC Beat as "Community. Creativity. Party." Ricky's piece for BC Beat was the finale performance and led everyone, including choreographers, performers and guests, onto the dance floor as Declan began his set and the dance party portion of the night continued. With a smile and drink in hand he explained how BC Beat pushed him beyond his comfort zone, which he loved and left him wanting more. As an associate director for numerous Broadway productions, including Newsies and the upcoming The Last Goodbye, the opportunity to harness the spirit and instinct of BC Beat to create and explore with freedom was recognized as essential.
In just two years, since its premiere in the spring of 2011, BC Beat has created a family of 40 choreographers, each with a unique tie to Broadway and a dedication to developing theatrical work. Choreographers include Stephen Hoggett, Richard Hinds, Patrick McCollum, John Carraffa, Brooke Wendle, Ron Todorowski, Daniel Watts, Marcos Santana, Camille A. Brown, Al Blackstone, Jennifer Jancuska, Jon Rua and Cherice Barton.
Now BC Beat will return to Cielo, located at 18 Little West 12th Street, on Monday November 11. Online tickets ($8) are now available through Brown Paper Tickets. Tickets can also be purchased at the door for $12, cash only. For more information on BC Beat, visit www.bcbeat.net.
Photo by Matthew Murphy Photography.