Bessie Awards unveil 2012-2013 Nominees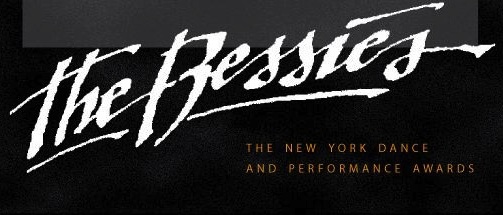 The New York Dance and Performance Awards (The Bessies), NYC's premier dance awards honoring outstanding creative work in the field, announced recently the 40 nominees for the 2012-2013 season. Announced at a press conference by members of The Bessies Selection Committee, the nominations (listed below) were made by an independent committee of 38 dance industry professionals. Produced in partnership with Dance/NYC, Bessie Award categories include Outstanding Production, Outstanding Performer, Outstanding Visual Design, Outstanding Composition or Sound Design and Outstanding Revived Work.
The 29th Annual Bessie Awards, termed by The New York Times as "the dance world's version of the Academy Awards," will take place on Monday, October 7, 2013 at 8 p.m. at the legendary Apollo Theater in New York City. The 2013 ceremony will mark The Bessie Awards' third year at the Apollo Theater.
Two 2013 awards were also presented at the press conference. Darrell Jones was named the recipient of the Juried Bessie Award. Acclaimed choreographers Ishmael Houston-Jones, Eiko Otake and Jason Samuels Smith selected choreographer Darrell Jones, who exhibits some of the most interesting and exciting ideas happening in dance in New York City today.
The Outstanding Emerging Choreographer Award was presented to Joanna Kotze for her work It Happened It Had Happened It Is Happening It Will Happen, presented at Danspace Project.
"Darrell and Joanna are two fascinating young choreographers, and we're thrilled to honor them with these awards," said Bessies Director Lucy Sexton. "The full slate of nominees gives a glimpse of the extraordinary breadth of dance work that is happening in the city. We are honored to be recognizing all of the nominated artists."
Produced in partnership with Dance/NYC, the New York Dance and Performance Awards have saluted outstanding and groundbreaking creative work by independent dance artists in NYC for 29 years. Known as "The Bessie" in honor of revered dance teacher Bessie Schoenberg, the awards were established in 1983 by David White at Dance Theater Workshop. They recognize exceptional work in choreography, performance, music composition and visual design.
Nominations:
Outstanding Performer
Shantala Shivalingappa in Shiva Ganga
Choreographed by Shantala Shivalingappa
Fall for Dance, City Center
Herman Cornejo
American Ballet Theatre
Works by Mark Morris, Twyla Tharp and Alexei Ratmansky
City Center and the Metropolitan Opera House
Aaron Mattocks
Works by David Gordon, Stephen Petronio, Jodi Melnick, Christopher Williams, Faye Driscoll, John Kelly, Dean Moss, Doug Elkins and more
Annique Roberts
Evidence Dance Company
Works by Ronald K. Brown
Charles "Lil Buck" Riley and Ron "Prime Tyme" Myles
Le Poisson Rouge

Kayo Seyama in BELL
Choreographed by Yasuko Yokoshi
New York Live Arts
David Wampach and Tamar Shelef in SACRE
Choreographed by David Wampach
The Invisible Dog Art Center as part of Performance Space 122's COIL Festival
Jennifer Monson in Live Dancing Archive
Choreographed by Jennifer Monson
The Kitchen
Melissa Toogood in Interface, Choreographed by Rashaun Mitchell at
Baryshnikov Arts Center and The Spectators, Choreographed by Pam Tanowitz
at New York Live Arts
Sebastien Ramirez and Honji Wang in AP15
Choreographed by Sebastien Ramirez and Honji Wang
The Apollo Theater, Breakin' Convention
Hari Krishnan in The Frog Princess
Choreographed by Hari Krishnan
La MaMa, La MaMa Moves! Dance Festival
Jaro Viňarský in Bastard (The Painted Bird Trilogy Cycle part I)
Choreographed by Pavel Zuštiak
La MaMa Moves! Dance Festival
Outstanding Emerging Choreographer
Justin Peck for Year of the Rabbit
New York City Ballet
Molly Lieber and Eleanor Smith for Tulip
Roulette
Ephrat Asherie for A Single Ride
Dixon Place
Joanna Kotze for It Happened It Had Happened It Is Happening It Will Happen
Danspace Project
Outstanding Musical Composition/Sound Design
Omar Sosa for Miriam
Choreographed by Nora Chipaumire
BAM's Fishman Space
Marty Beller for A Single Ride
Choreographed by Ephrat Asherie
Ant Hampton and Tim Etchells for The Quiet Volume
Created by Ant Hampton and Tim Etchells
Performance Space 122 and PEN World Voices Festival
Liam O Maonlai for Rian
Choreographed by Michael Keegan-Dolan of Fabulous Beast Dance Theatre
Lincoln Center, White Light Festival
Outstanding Visual Design
Suzanne Bocanegra, costume design for Ich, Kurbisgeist
by Big Dance Theater at The Chocolate Factory
Pontus Lidberg, set and media design for Within (Labyrinth Within)
by Morphoses at The Joyce
Fleur Elise Noble, visual design with media for Two Dimension Life of Her
by Fleur Elise Noble at Under the Radar Festival, The Public Theater
Akiko Iwasaki, costume design for BELL
by Yasuko Yokoshi at New York Live Arts
Outstanding Revived Work
Dionysus in 69
Rude Mechs from a work by The Performance Group
New York Live Arts
State of Heads
Choreographed by Donna Uchizono
New York Live Arts
Scott, Queen of Marys
Choreographed by Doug Elkins
Baryshnikov Arts Center
D-Man in the Waters
Choreographed by Bill T. Jones
The Joyce

Outstanding Production
(performed in a large capacity venue of more than 400 seats)
Rian, Fabulous Beast Dance Theatre
Choreographed by Michael Keegan-Dolan
Lincoln Center, White Light Festival
Shostakovich Trilogy, American Ballet Theatre
Choreographed by Alexei Ratmansky
Metropolitan Opera House
The Legend of Apsara Mera, Royal Ballet of Cambodia
BAM's Howard Gilman Opera House

Outstanding Production
(performed in a small capacity venue of less than 400 seats)
Then She Fell
Created and choreographed by Third Rail Projects
Kingsland Ward at St. Johns
Everything You See
Choreographed by Vicky Shick
Danspace Project
The Painted Bird Trilogy Cycle
Choreographed by Pavel Zuštiak and Palissimo
La MaMa, La MaMa Moves! Dance Festival

Outstanding Production
(of a work stretching the boundaries of a traditional form)
Paseo
Choreographed by Joanna Haigood
Dancing in the Streets
red, black, & GREEN: a blues
Choreographed by Marc Bamuthi Joseph
BAM's Fishman Space
Mo(or)town/Redux
Choreographed by Doug Elkins
Baryshnikov Arts Center
Outstanding Production
(of a work at the forefront of contemporary dance and performance practices)
Watch It
Choreographed by Liz Santoro
Museum of Arts and Design
The People to Come
Choreographed by Yanira Castro
The Invisible Dog Art Center
Organ Player
Created by Narcissister
Abrons Arts Center