Big Apple Tap Festival honors late tapper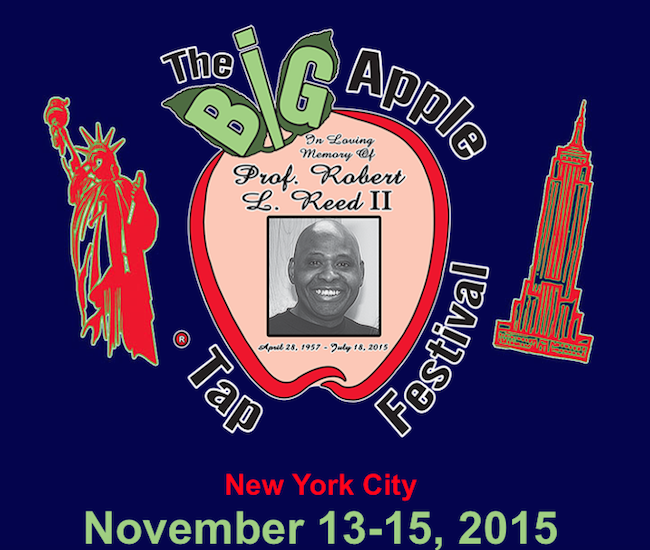 The 2015 Big Apple Tap Festival will be held on November 13-15 in loving memory of Professor Robert L. Reed II. The festival, packed with stellar faculty members, will take place in New York City, with classes being offered at Nola Studios and 777 Studios in midtown Manhattan and the Participants Showcase set for The Schomburg Center in uptown Manhattan/Harlem on November 14.
Professor Robert L. Reed II, who passed away at age 58 on July 18, 2015, was widely regarded as one of the great tap dancers and tap master teachers. He was a regular teacher at the Big Apple Tap Festival and many other events throughout the world. A protégé of the late Maceo Anderson of the famous Four Step Brothers, he toured with Cab Calloway and was the featured dancer at the legendary Peg Leg Bates Resort. Professor Reed opened for such luminaries as Sammy Davis, Jr., Jerry Lewis, Cher, Liberace, Redd Foxx, David Hasselhoff, The Smothers Brothers, The Temptations and The Dramatics. Plus, he was a featured dancer in national and international tours of Riverdance, was presented in Europe in Incognito, performed with the famed choreographer Michael Peters in Rome and was a featured performer in places like Nagoya, Japan; Frankfurt, Germany; Monte Carlo; Switzerland; and New Zealand.
To honor Professor Reed, who was also the founder/artistic director/producer of the famed St. Louis Tap Festival, the Big Apple Tap Festival will offer a memorial master class led by Logan Miller this year. Miller (assisted by Kendall Owens) will teach a segment of Prof. Reed's signature choreography, Black Orpheus.
Throughout the rest of the festival, dancers can take class with 15 other leading tap artists, each offering his/her own unique style and charisma. This is in addition to warm-up sessions led by six other tap practitioners.
There will also be Tap History Talks emceed by Rusty Frank, the author of the famous book TAP, at 777 Theater in midtown Manhattan. Avi Miller will host a video presentation at Nola Studios.
For more information on the festival and its star-studded tap faculty, visit http://thebigappletapfestival.com. Registration is still open but classes are filling up, so be sure to register soon!