Bill T. Jones awarded National Medal of Arts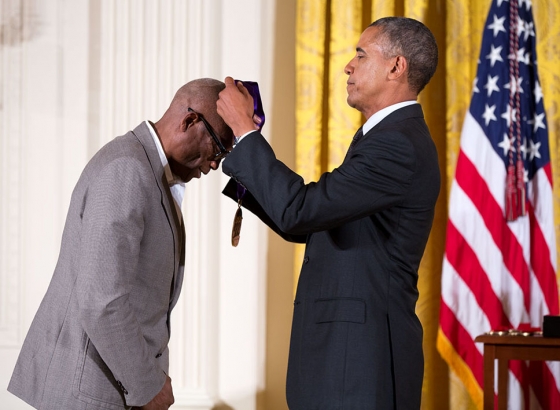 On Monday, July 28, the President and the First Lady honored the 2013 National Medals of the Arts and Humanities recipients at the White House. The President told the recipients that their "accomplishments enrich our lives and reveal something about ourselves and our country."
This year's recipients consisted of a diverse array of individuals and groups who have done groundbreaking work in the arts and humanities, including architecture, choreography, East Asian Studies and documentary filmmaking – all of whom have made significant contributions to the human experience.
Representing dance, choreographer Bill T. Jones was awarded a National Medal of Arts. Renowned for provocative performances that blend an eclectic mix of modern and traditional dance, Jones creates works that challenge us to confront tough subjects and inspire us to greater heights.
As the artistic director of New York Live Arts and artistic director/co-founder of the Bill T. Jones/Arnie Zane Dance Company, Jones has received major honors ranging from a 1994 MacArthur "Genius" Award to Kennedy Center Honors in 2010. He was honored with the 2014 Doris Duke Award, recognized as Officier de l'Ordre des Arts et des Lettres by the French government in 2010, inducted into the American Academy of Arts & Sciences in 2009, and named "An Irreplaceable Dance Treasure" by the Dance Heritage Coalition in 2000. He is a two-time Tony Award recipient for Best Choreography for FELA! and Spring Awakening and received an Obie Award for Spring Awakening's off-Broadway run. His choreography for the off-Broadway production of The Seven earned him a 2006 Lucille Lortel Award.
"The moments you help create – moments of understanding or awe or joy or sorrow – they add texture to our lives," said President Barak Obama to this year's honorees. "They are not incidental to the American experience; they are central to it – they are essential to it. So we not only congratulate you this afternoon – we thank you for an extraordinary lifetime of achievement."
Here is the full list of recipients from this year's event:
2013 National Medal of Arts
Julia Alvarez, Novelist, Poet, and Essayist
Brooklyn Academy of Music, Presenter
Joan Harris, Arts Patron
Bill T. Jones, Dancer and Choreographer
John Kander, Musical Theater Composer
Jeffrey Katzenberg, Director and CEO of DreamWorks
Maxine Hong Kingston, Writer
Albert Maysles, Documentary Filmmaker
Linda Ronstadt, Musician
Billie Tsien and Tod Williams (receiving individual medals), Architects
James Turrell, Visual Artist
2013 National Humanities Medal
M.H. Abrams, Literary Critic
David Brion Davis, Historian
Darlene Clark Hine, Historian
Anne Firor Scott, Historian
William Theodore De Bary, East Asian studies scholar
Johnpaul Jones, Architect
Stanley Nelson, Filmmaker
Diane Rehm, Radio Host
Krista Tippett, Radio Host
American Antiquarian Society, Historical Organization
To find out more about the recipients of the 2013 National Humanities Medal, head to www.neh.gov. Visit http://arts.gov for more information on the 2013 National Medal of Arts.
Photo: Dancer and Choreographer Bill T. Jones receives the National Medal of Arts from President Obama in the East Room of the White House on July 28, 2014. Photo by Pete Souza, courtesy of the White House.