BodyVox to present Arcane Collective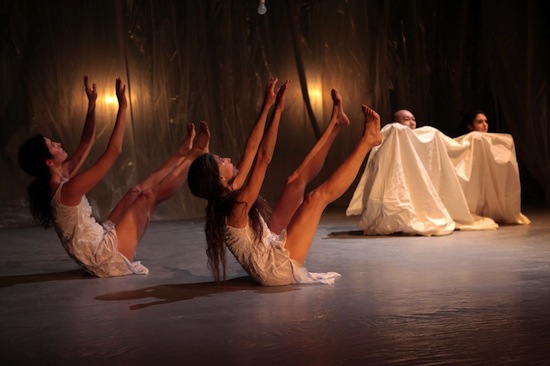 From the canvas to the stage, BodyVox presents Arcane Collective's original work Inside: Cold Dream Colour, a dance homage to Ireland's foremost 20th century painter, Louis le Brocquy. Fresh from performances at the Guggenheim Museum in NYC, BodyVox will present Arcane Collective in three performances at the BodyVox Dance Center in Portland on December 5-7.
In tribute to Ireland's foremost 20th-century painter, Louis le Brocquy, Arcane Collective brings the canvas to the stage in a spellbinding celebration that transforms the artist's imagery into music and dance. The work is concerned less with animating figures and physical shapes in le Brocquy's mysterious paintings than it is with finding the meanings and energy within them. With mesmerizing concentration and urgent dexterity, the dance hints at a poetic narrative with an intensely seductive and gestural movement style. The distinctive guitar techniques of The Edge and Paul Chavez set a compelling yet subtly textured tone for the work.
The spirit of the paintings will come to life as the small company performs excerpts from their latest production, Cold Dream Colour. BodyVox Artistic Director Jamey Hampton moderates a discussion with directors/choreographers Morleigh Steinberg and Oguri about their working process and shedding light on how one art form informs another with Inside: Cold Dream Colour.
BodyVox Co-Artistic Directors Jamey Hampton and Ashley Roland have a long history with the artists of Arcane Collective. They were dancer-choreographers with Morleigh Steinberg in the original MOMIX dance company and later the trio founded ISO Dance along with Daniel Ezralow. Hampton and Roland founded BodyVox in 1997, while Steinberg formed a creative partnership with Oguri, whose work is strongly influenced by the tradition of the Japanese Butoh style of dance. Currently residing in Los Angeles, Oguri was born in Japan and studied there with master Tatsumi Hijikata, the founder of a genre of Butoh dance.
When Morleigh Steinberg moved to Ireland about 20 years ago after marrying U2 guitarist The Edge, she was immediately drawn to the paintings of Louis le Brocquy, a widely hailed Irish artist and close friend of the band. "He is a towering figure in Irish art," said the dancer and choreographer who now divides her time between Los Angeles and Ireland. "I had just moved to Ireland feeling quite disconnected and unfamiliar with Irish culture, but when I saw his paintings I felt like I could connect with his art."
Hampton of BodyVox says, "Arcane Collective is making exquisite avant garde work, that is really on the cutting edge of dance. I believe Cold Dream Colour is unlike anything Portland audiences have seen."
For more information on Arcane Collective and Cold Dream Colour, visit arcanecollective.com. Arcane Collective's Inside: Cold Dream Colour plays December 5-7 at the BodyVox Dance Center, located at 1201 NW 17th Avenue in Portland, Oregon. Tickets start at $25 and are now available online at www.bodyvox.com or by phone at 503.229.0627. Discounts are available for seniors, students and groups of eight or more.
Photo: Dancers performing in Arcane Collective's Inside: Cold Dream Colour. Photo courtesy of Arcane Collective.