BodyVox-2 starts New Year with a showcase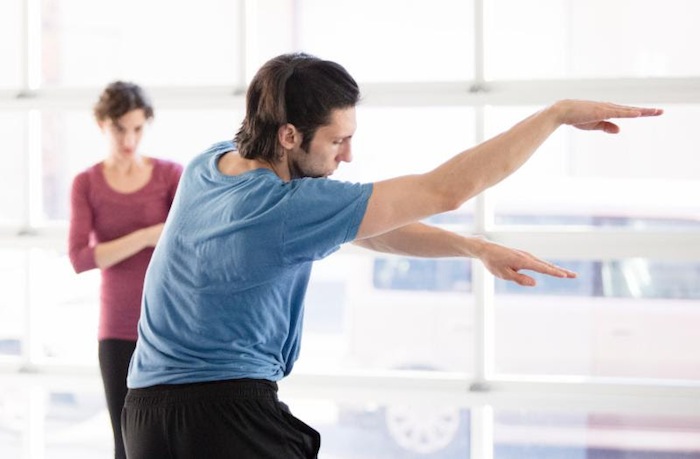 On February 6-15, Portland-based BodyVox will present a showcase for the talents of the company's team of emerging artists, BodyVox-2. Since forming the second company in 2007, Co-Artistic Directors Jamey Hampton and Ashley Roland have seen the troupe emerge as a gifted ensemble of powerful and talented dancers.
"The best way to season young dancers is to challenge them with as many different performance experiences as possible," says Roland. To that extent, Hampton and Roland have fashioned an interesting challenge for this season's BodyVox-2 show: each dancer will be paired with a different choreographer to develop a new solo.
This season's BodyVox-2 show offers a fresh look at these exceptional and unique artists in six choreographer/dancer pairings: Jamey Hampton/Jeff George, Ashley Roland/Holly Shaw, Anne Mueller/Sam Hobbs, Eric Skinner/Josh Murry, Éowyn Emerald/Katie Staszkow, and Laura Haney/Anna Marra.
For balance, the program will also include a revival of Hampton's Wild Man, a full ensemble piece created for Oregon Ballet Theatre in 1991. Wild Man features original sets and costumes by the late Portland artist Michele Russo and an original score by Italian composer Ludovico Einaudi.
This season's BodyVox-2 performers include: Josh Murry, Jeff George, Holly Shaw, Anna Marra, Katie Staszkow and Sam Hobbs. BodyVox-2 performers receive mentorship, training and performance opportunities throughout the year working under the direction of seasoned BodyVox performer Zachary Carroll. They perform in main stage shows with BodyVox, and in all BodyVox school assemblies. The troupe tours independently throughout Oregon and SW Washington.
BodyVox-2 dancers are encouraged to explore varied dance styles and disciplines and to perform as much as possible. BodyVox-2 performers are frequently seen as guests with Portland companies, including DoJump, Polaris Dance, Portland Ballet, Portland Festival Ballet, skinner/kirk DANCE ENSEMBLE, Columbia Dance, Éowyn Emerald and Dancers, and a host of independent choreography projects.
BodyVox-2's performances run February 6-15 at the BodyVox Dance Center, located at 1201 NW 17th Avenue in Portland, Oregon. Ticket prices start at $16. For tickets or more information, visit www.bodyvox.com or call 503-229-0627.
Photo: BodyVox-2's Samuel Hobbs rehearsing a solo choreographed by Anne Mueller. Photo by Blaine Truitt Covert.