Boston Ballet opens 'Edge of Vision' program
Boston Ballet opens its triple bill program Edge of Vision this week, featuring three works commissioned by Boston Ballet: Jorma Elo's highly anticipated world premiere, Bach Cello Suites; Helen Pickett's "majestic" Eventide, originally created for Boston Ballet in 2008; and Lila York's rousing Celts, which sets classical ballet, jigs and speedy footwork to a mix of Irish music. Edge of Vision will run April 30 to May 10 at the Boston Opera House.
"For the Edge of Vision program, I am thrilled to bring three works together that were all originally created especially for the Boston audience," comments Artistic Director Mikko Nissinen. "There is a special quality to a performance when a piece of choreography has been created for the company. Each dancer inherently connects to the movement in a deeply personal way. We are extremely fortunate to work so closely with Helen Pickett, Jorma Elo and Lila York on these remarkable ballets."
Eventide has evolved since its 2008 premiere. Pickett created a new version of the ballet for the Vienna State Opera in 2013 and it has since progressed even further. The work features four principal couples and 10 corps women—with a completely new first movement never-before-seen by the Boston audience, including new music, choreography, scenic designs and lighting. This new version features music by influential composer Philip Glass, sitar virtuoso Ravi Shankar and famed saxophonist Jan Garbarek.
Set and costumes for Eventide, described by Alastair Macaulay of The New York Times as "impressive," "arresting," and "striking," were designed by Boston Ballet's Production Manager/Technical Director Benjamin Phillips and Manager of Costumes and Wardrobe Charles Heightchew, respectively. Isabella Walnorfer of Dei Presse describes the dance as "exotic, full of ephemeral secrets, pulsating. The dynamics through the speed made the movement strong and edgy, and at the same time elegant and filled with breathless, soulful eroticism."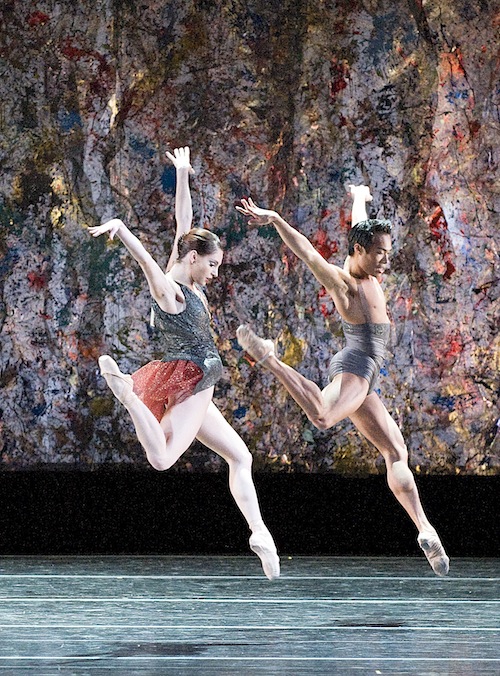 In 2005, Nissinen offered Pickett her first choreographic commission, entitled Etesian. She has since choreographed five new works for Boston Ballet, along with an array of other companies across the globe. Pickett was one of the first choreographers to receive the Jerome Robbins Foundation's New Essential Works Grant for Tsukiyo, which she created for Boston Ballet in 2009. She is currently the resident choreographer of Atlanta Ballet. This year marks her 10th anniversary of her career as a choreographer.
Continuing Boston Ballet's dedication to choreographic innovation, Finnish-born Jorma Elo will premiere Bach Cello Suites. Elo, resident choreographer of Boston Ballet, has created 12 works for the company over a span of 13 years. His Bach Cello Suites features 11 dancers, including Elo himself—a unique opportunity to see a choreographer integrated as a dancer into his own work. Principal Dancer Erica Cornejo will perform Elo's role in alternate performances.
This work is set to Johann Sebastian Bach's Cello Suites Nos. 1 & 2, with a cello soloist performing onstage. Sergey Antonov, winner of the prestigious Tchaikovsky Competition in Moscow who is "destined for cello superstardom" (Washington Post), will join Boston Ballet as the cello soloist for six performances. Ron Lowry, who has led Boston Ballet Orchestra's cello section with distinction for many seasons, will perform the piece for all other performances. This work is a true Boston Ballet collaboration with set design by Nissinen, costume design by Heightchew and lighting design by Lighting Director John Cuff.
The energetic Celts, choreographed by Lila York, returns to Boston Ballet to close the Edge of Vision program. Boston Ballet premiered this work in 1996 and was last performed by the company in 2001. Celts takes the steps, rhythms and shapes of Irish step-dancing and adapts them to ballet: it is made for 29 dancers and is based on a composite of Irish folk tales. York explains: "It celebrates the resilience of the Irish. Their fortitude and stamina… Celts was made for Boston" (Irish Voice).
Set to the "pounding rhythms of Celtic music," original and traditional Irish music is composed and arranged by The Chieftains Founder Paddy Maloney and Massachusetts native Mason Daring, among others, performed by Irish groups such as Celtic Thunder and The Chieftans with Ry Cooder and Bill Ruyle (Bence Olveczky, The Tech). According to Christine Temin, Celts remains "one of the most popular works in the company's history" (The Boston Globe).
Celebrated American choreographer Lila York enjoyed a 12-year career as a dancer with the esteemed Paul Taylor Dance Company, appearing in more than 60 works. Over the past 23 years, she has choreographed works for the Royal Danish Ballet, Pacific Northwest Ballet, Kansas City Ballet, American Repertory Ballet, The Juilliard Dance Ensemble and others.
For full choreographer, dancer and musician biographies, head to bostonballet.org. Tickets, which start at $29, are now available. For more information, visit the website or call 617-695-6955.
Photos: Boston Ballet in Helen Pickett's Eventide (with John Lam and Melissa Hough in left image.) Photos by Gene Schiavone.