Boston Ballet to Tour London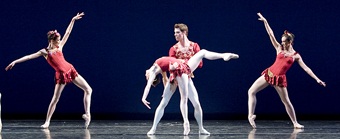 Boston Ballet Artistic Director Mikko Nissinen has announced that the Company will visit London, 1 – 7 July 2013 for six performances at the London Coliseum. The date marks the return of Boston Ballet to London for the first time in 30 years.
The Company will present two programmes, showcasing the diversity of Boston Ballet's repertoire and the versatility of its artists, accompanied by the Royal Philharmonic Orchestra. The tour will commence Boston Ballet's 50th anniversary season.
"The performances are an exciting opportunity to bring this versatile ballet company to London", said Nissinen. "The repertoire duly represents classical ballet, neo-classical dance and cutting edge contemporary dance." The dynamic collection of ballets the Company will perform reflects a century of groundbreaking choreography ranging from Nijinsky to Boston Ballet resident choreographer Jorma Elo.
Photo: Boston Ballet in George Balanchine's Jewels, choreography by George Balanchine, courtesy of The George Balanchine Trust. Photo by Gene Schiavone. From bostonballet.com