Breaking Ground brings 25 artists to Arizona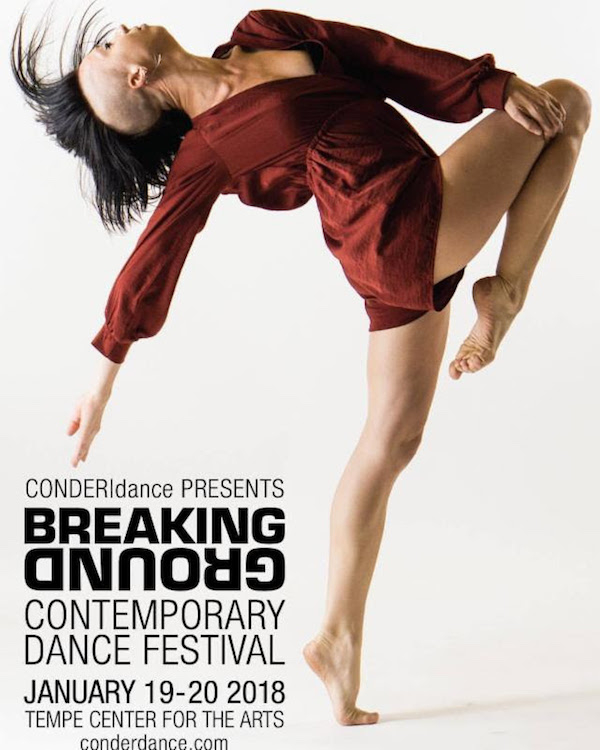 "Dance film selfies" filmed in exotic locales, performers in surreal animal masks, and riveting exhibitions from masters of movement, the Breaking Ground Contemporary Dance and Film Festival brings 25 of the nation's top artists to Arizona for its annual festival at Tempe Center for the Arts.
The Breaking Ground 2018 Festival will be held Friday and Saturday, January 19 and 20 at 7:30 p.m. on the Main Stage at the Tempe Center for the Arts, located at 700 W. Rio Salado Parkway in Phoenix.
Program A on January 19 will feature Lacee Garcia and Emily Laird, Julio U Medina, Shauna Meredith, Rosanna Tavera, CONDER/dance, Pamela Pietro, Mary Fitzgerald (film), and Tales Between Our Legs.
Program B on January 20 will feature casebolt and smith, szalt, Shelly Hawkins, Jay Carlon (film), Pamela Gerber Handman, Jenny Gerena, Sarah Haas and CONDER/dance.
Following the performances, Breaking Ground 2018 will hold an after-party featuring the popular "tiny dances" in the lobby of the Tempe Center for the Arts. These short five-minute pieces are performed on 4 x 4 feet elevated stages and will be performed by local contemporary dancers.
Tickets for Breaking Ground are on sale now at tca.ticketforce.com or by calling 480-350-2822. Find more information on artist profiles and master classes at www.conderdance.com.