'Breaking Pointe' stars lead Cleveland classes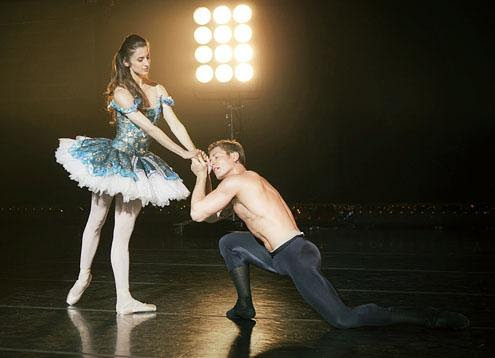 On Saturday, March 1, Ballet in Cleveland, an organization seeking to facilitate and host ballet events in Cleveland, Ohio, will present master classes with Allison DeBona, Christopher Ruud and Rex Tilton, dancers of Ballet West in Salt Lake City and the former hit TV series Breaking Pointe. Classes will be available for dancers from 8 years old to adult at Gund Dance Studio in PlayhouseSquare, located at 1375 Euclid Ave., Cleveland.
DeBona, Tilton and Ruud will lead a day of ballet instruction that includes a jump and turn workshop and pas de deux class for more advanced students. After each class, students will enjoy a Q&A and autograph session with the instructors. All participants will receive autographed headshots, a group photo and an exclusive poster of Allison DeBona, printed especially for Ballet in Cleveland by Grishko.
The master classes will be broken up into two major age groups, with an 8-to-12-year-old class starting at 12 p.m. and a 13-and-up class starting at 4:30 p.m. The younger class still requires an intermediate level of ballet training, while the older class notes that dancers should demonstrate an advanced level of ballet training.
The 8-to-12-year-old master class will feature an hour-long session in ballet technique before a 45-minute jump and turn workshop. The 13-and-up class includes ballet technique as well before an hour-long pas de deux class.
The cost of a class is $55 per person. There is also a $5 registration fee. Partial payments will not be accepted. The total payment of $60 per person is due at the time of registration. Note that class size is limited. Dance studio owners may contact Ballet in Cleveland about special group rates at info@balletincleveland.org. To register or for more information, visit www.balletincleveland.org.
Also, Ballet in Cleveland has just launched its newest program Guys Dance Too. This very special initiative aims to inspire young male dancers to pursue ballet through providing access to instruction and discussion with exceptional male professional ballet dancers.
On March 1 from 3 to 4 p.m., a Guys Dance Too class will be hosted by Tilton and Ruud at no cost to male dancers of all ages and ability levels. All participants in the Guys Dance Too program receive a free t-shirt. This class will also include a special 'Men in Dance' video presentation. To register for the special Guys Dance Too class, or more information, email Erik Zito at erik@balletincleveland.org or call 330-285-5779.
Photo: Allison DeBona and Rex Tilton of Ballet West in Breaking Pointe. Photo courtesy of Ballet in Cleveland.