Brooklyn Ballet inspires Adidas Sneaker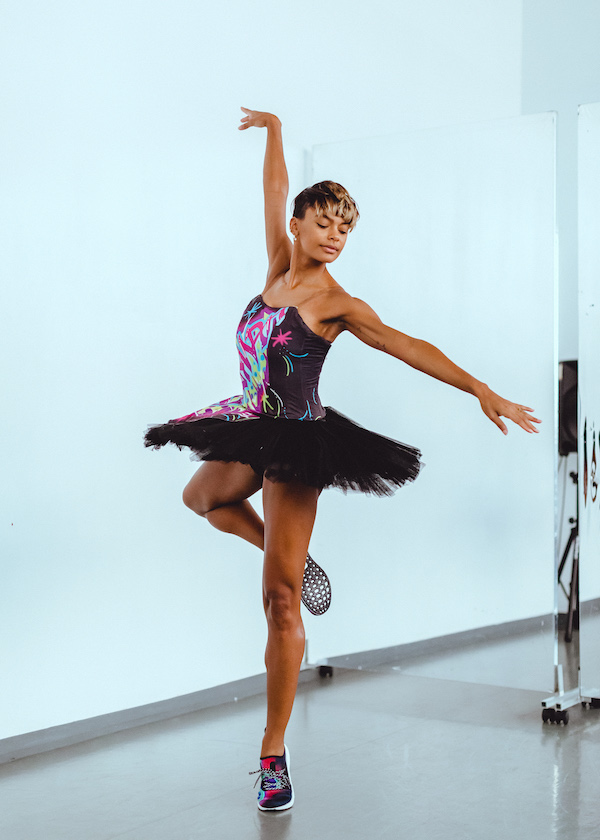 This Friday, December 14, a new Adidas sneaker inspired by Brooklyn Ballet will make its debut on the feet of performers in the company's expanded, one-night-only show The Brooklyn Nutcracker. Set for the majestic Kings Theatre in Flatbush, the show will see street dancers modeling the new kicks, which is inspired by the graffiti tutu worn by the mechanical doll in Act I.
The Brooklyn Nutcracker fuses ballet, hip-hop and an array of world dance genres to create a new tradition for today's audience. A re-imagined holiday classic, the show transforms familiar Nutcracker characters and scenes to represent the diverse traditions and vibrant multicultural history of Brooklyn.
With a strong commitment to honoring the borough's cultural traditions, the company premieres Spanish Hot Chocolate performed by first place winner of Flamenco Certamen 2016, Aliesha Bryan, and Margaret Yuen's Red Silk Dancers in Chinese Tea. Fit for the Kings Theatre's stately space, the production's first Act I party scene is expanded with a cast of multi-national dancers merging together both hip-hop and baroque movement in dances inspired by the 18th century French court.
Unique to The Brooklyn Nutcracker are collaborations with tech-based artists and designers providing audiences with a multi-sensory experience, exploring ground-breaking technology of light and motion-responsive costumes. Within moments, the digital set and backdrop transports the plot from historical old Dutch Brooklyn to the iconic Flatbush Avenue—in an homage to Kings County.
"The Brooklyn Nutcracker was born in 2010 on a Brooklyn street corner, a dance collaboration between a petite ballerina and a large hip-hop dancer. Passersby were mesmerized so I knew we were on to something," explains Artistic Director Lynn Parkerson. "Past years' sold-out seasons confirmed that Brooklynites love seeing a holiday classic, dedicated to the people and places they call home."
For Nutcracker traditionalists, a Victorian-style holiday party for Clara and friends, Snow Scene, Waltz of the Flowers, and Grande Pas remain true to Petipa's and Ivanov's vision. In the re-imagined scenes, Parkerson injects an unmistakable and symbolic Brooklyn culture. Clara's mysterious uncle Drosselmeyer is portrayed by hip-hop pop and locker Michael "Big Mike" Fields, and each snowflake is donned in LED wired tutus that illuminate with the sweep of Tchaikovsky's rich score. Native American performer Nakotah LaRance, a six-time World Hoop Dance Champion, returns with his sensational mix of traditional hoop and hip-hop dance to open the second act.
With a cast of over 50 dancers, audiences will also enjoy divertissements from Sira Melikian, an authentic Middle Eastern belly dancer, African-based modern dancers, Brooklyn's top pop and lock, gliding and flex'n dancers, as well as Brooklyn Ballet School's own students.
For more information, visit www.BrooklynBallet.org. To book tickets, head to http://bit.ly/BKNutcracker2018.
Photo: Brooklyn Ballet dancer models Adidas' new sneakers, which are available at Extra Butter, located in Manhattan's lower east side. Photo courtesy of Brooklyn Ballet.