B-Series celebrates Hip-Hop & Street Dance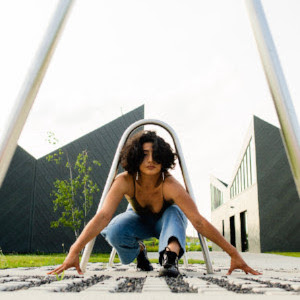 The Dance Center of Columbia College Chicago, partnering with national and local community organizations, continues its B-Series, a biannual celebration of hip-hop and street dance, with B-FREE, a festival celebrating innovative expression and progressive action in hip-hop and street dance culture on Saturday, October 13.
Collaborating with internationally recognized hip-hop nonprofits Words Beats & Life of Washington D.C. and Kuumba Lynx of Chicago, B-FREE will feature workshops, performances, panel discussions and a community dance jam and competition.
"B-Free will feature a group of incredible local artists whose talents and ingenuity are unmatched," said Columbia College Chicago Assistant Professor of Instruction Kelsa Robinson, lead curator of the B-Series. "Through our partnerships and collaborations, we are also providing opportunities for artists and Columbia students around mentorship and professional development."
For the first time, the B-Series will be deeply interwoven with the Dance Center's Dance Presenting Series, specifically the opening presentation of Ephrat Asherie Dance on October 11–13.
Ellen Chenoweth, assistant professor of instruction and director of the Dance Presenting Series, noted, "We're excited that Ephrat and her dancers will participate in residency activities with the B-Series, appear in Columbia classrooms and perform on the stage. I think Columbia is an ideal home for this kind of holistic engagement."
Daniel "BRAVEMONK" Haywood, hip-hop practitioner, Dance Center faculty member and B-Series co-curator, said, "It's dope to see the relationship between the B-Series and Presenting Series grow and deepen. It allows students, artists and audience members to expand their understanding of the many avenues, skills and career paths for hip-hop practitioners. This connects well to the new Hip-Hop Minor and Columbia. I'm excited for the building and cross-fertilization."
The schedule of activities is as follows below. All B-Series events are free (tickets to Ephrat Asherie Dance's performances are $30). For updates, visit dance.colum.edu and facebook.com/BHipHopSeries.
2018 B-SERIES SCHEDULE:
Tuesday, October 9 (6:30–8 p.m.)
624 S. Michigan, Room 1409
Panel Discussion: Hip-Hop Fusion, Hybridization, Identity and Ethics
Thursday–Saturday, October 11, 12 and 13 (7:30 p.m.)
Dance Center, 1306 S. Michigan Avenue (Theater)
Ephrat Asherie Dance presents Odeon
*Post-Performance Conversation: Thursday, October 11
*Pre-Performance Talk: Friday, October 12 at 6:30 p.m. at Sherwood Community Music School Recital Hall
Saturday, October 13
Dance Center, 1306 S. Michigan Avenue
12 p.m.: Dance Workshop with Ephrat Asherie Dance (studio 300)
1:30 p.m.: B-FREE Jam (Theater)
Photo: Vero, who will judge a 2V2 Open-Styles Battle for the B-FREE Jam in the theater. Photo by Ryan Siu.