Bunting Art Collection on Auction at Skinner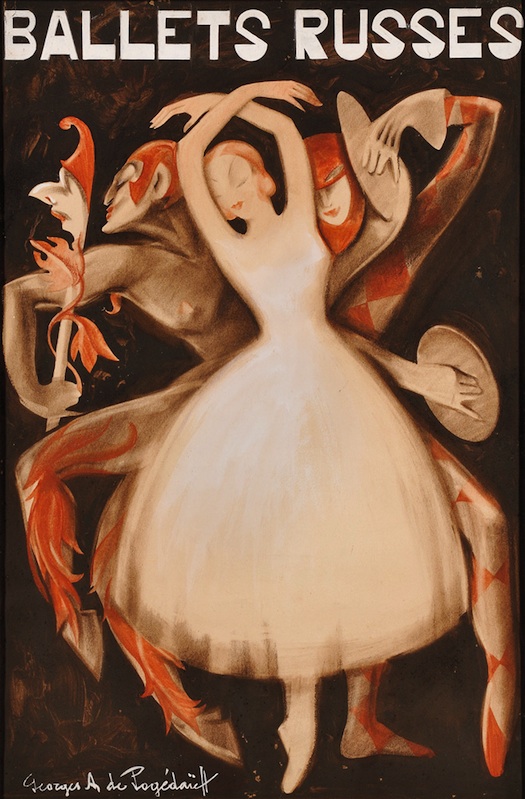 Skinner, Inc. will auction prints, photographs, paintings and sculpture on Friday, September 20 at its Boston gallery for its highly anticipated fall American & European Works of Art sale. The auction will include more than 150 lots of dance-related art from the collection of Robert Bunting, longtime ballet aficionado. This session of the auction will start at 2 p.m.
The 155-lot collection offers not merely memorabilia of past performances but a direct, perceptible connection to ballet's greatest artists, works and the period of their creation.
Highlights include set and costume designs commissioned by Serge Diaghilev, Isadora Duncan, George Balanchine, and other luminaries from the advent of modern ballet. Works include those by Bakst, Benois, Gontcharova, Berard, Messel, Fini, Tchelitchew, Berman and Ter-Arutunian. Also offered will be ballet-themed artwork in several media by such artists as Charles Maurin, Georges de Pogedaieff and Jean Cocteau.
Some of the most anticipated and highly valued items that will be auctioned include a costume design by Léon Bakst for the marchioness in The Sleeping Beauty (going for $10,000 to $15,000), a costume design for Liturgie: The Annunciation (The Virgin and Gabriel) attributed to Natalia Sergeevna Goncharova (set for $10,000 to $15,000), the poster maquette for the Ballets Russes de Monte Carlo by Georges De Pogédaïeff (priced at $10,000 to $15,000), and a depiction of the set for the bedroom in La Belle Hélène by Marcel Vertès (from $3,000 to $5,000).
The auction also includes a watercolor portrait of modern dance forerunner Ted Shawn, many noteworthy pictures of dance pioneer Martha Graham, a historic photograph of revered ballerina Anna Pavlova, and 33 remarkable photographs of dancers from American Ballet Theatre, Diaghilev's Ballets Russes, Ballet Russe de Monte Carlo, José Limón Dance Company and New York City Ballet, including one dedicated and autographed "With best wishes…Erick Hawkins."
The collection is a tangible expression of Dr. Robert Bunting's lifelong fascination with the ballet, which began when he attended George Balanchine's staging of The Nutcracker for the New York City Ballet, and has continued to the present day.
The auction is set for September 20 at 2 p.m. in the Skinner Boston gallery, located at 63 Park Plaza in Boston. The Skinner website allows users to view all lots in the auctions, leave bids, order catalogs and bid live in real-time through SkinnerLive!. Visit www.skinnerinc.com for more information.
Photo: Russian artist Georges de Pogédaïeff's poster maquette for the Ballets Russes de Monte Carlo. Photo courtesy of Skinner, Inc.