California Contemporary Ballet's 'Snow Queen'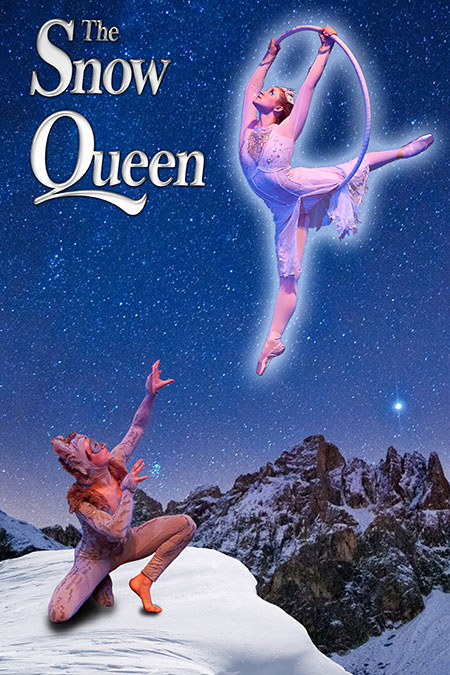 California Contemporary Ballet celebrates its 15th anniversary season of The Snow Queen with an extravaganza of aerial arts, gymnastics and a rich variety of classical ballet and contemporary dance, all performed by an integrated cast of professional dancers and talented youth Dec. 21-23.
Brought to life by the creative vision of the company's Artistic Director and Choreographer Aerin Holt, The Snow Queen is based on Hans Christian Andersen's original classic story. The wintry ballet revolves around the magic of the Snow Queen, the creator of winter wind and snow. The story demonstrates that friendship, hope, integrity, persistence and determination can enable anyone to overcome life's obstacles.
California Contemporary Ballet encourages families to come out and experience the adventures of young Gerda as she persists to save her best friend Kai. The story is busting with intriguing, fairytale characters, such as the enchantress, the gypsy girl and boy and the crows. One highlight will be the Prince and Princess as they perform a grand pas de deux.
"Open yourself to the world of the Snow Queen as she reverses an old tragedy and brings tears of joy to an entire village," said ballet officials.
The Snow Queen features brilliant lighting, fairytale-inspired set design, custom hand sewn costumes and an original musical score by Randall Michael Tobin.
For more information or to book tickets, visit www.SnowQueenBallet.com. The ballet will be shown at 7:30 p.m. on Friday, Dec. 21, 2 p.m. on Saturday, Dec. 22 and Sunday, Dec. 23 at 2 p.m.
California Contemporary Ballet continues to establish itself as one of Southern California's burgeoning dance companies. The company's repertoire includes traditional ballets as well as contemporary works, with The Snow Queen quickly becoming the signature ballet.
Photo: California Contemporary Ballet's
 The Snow Queen. Photo by Kathy Hanson.