Cape Dance Festival expands in third year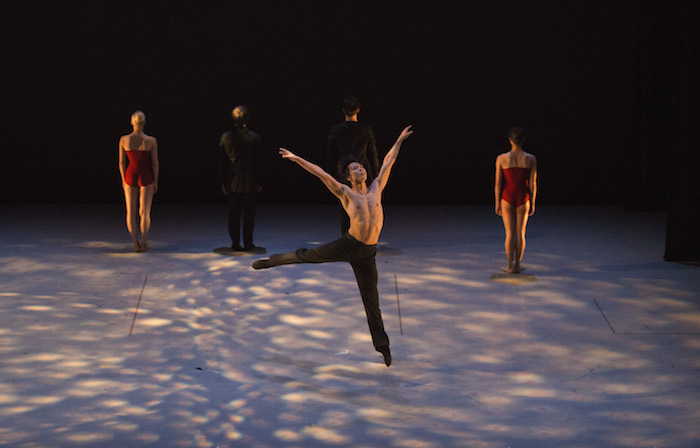 This summer, the Cape Dance Festival presents its third annual evening of dance at the Province Lands Outdoor Amphitheater in Provincetown, Massachusetts on Saturday, July 25 at 6 p.m., along with other new events throughout the week.
CDF presents the Cirio Collective as part of this year's festival. The collective is led by former Boston Ballet Principal and new American Ballet Theatre Soloist Jeffrey Cirio and features seven other former and/or current dancers of Boston Ballet. It recently premiered Cirio's first major work, fremd, with Boston Ballet in May at the Boston Opera House. Now Cirio will finish his next new work for CDF, working on it at the Cape from July 20- 24 as part of the festival's inaugural New Work Residency.
Cirio, who began dancing with Boston Ballet in 2009, has won numerous medals and awards for his exceptional dancing, including the coveted Princess Grace Award and the Gold Medal at the 2009 Helsinki International Ballet Competition (the first American to do so.) His latest efforts in choreography are influenced by contemporary masters like William Forsythe.
His Cirio Collective includes Boston Ballet's Lia Cirio (his sister and a principal with the company) plus former principal Whitney Jensen, soloist Bradley Schlagheck, soloist Isaac Akiba, second soloist Altan Dugaara, second soloist Paul Craig and corps dancer Emily Mistretta.
In conjunction with the New Work Residency, CDF has scheduled community outreach activities during the week of July 20. This will include three open classes, two ballet classes taught by Lia and Jeffrey Cirio on July 20 and 22, and one modern class taught by Californian contemporary choreographer Michael Nickerson-Rossi on July 24. All classes will be held at Studio 878 in Chatham and will cost $15 at the door. Students must be 14 years or older.
CDF also presents Making Ballet: An Evening With the Cirio Collective at Wellfleet Preservation Hall. Part lecture and part performance, this event will be moderated by CDF Co-Producers Liz Wolff and Stacey-Jo Marine while Jeffrey Cirio shares several of his works, including a sneak peak of his newest. Members of the Cirio Collective will perform, then join the panel for a Q&A session. Tickets cost $15. Children 12 years and under are free.
The climax of CDF's weeklong activities is the performances at Province Lands Outdoor Amphitheater. This summer's program boasts a wide range of dance styles, such as contemporary ballet, classical ballet, modern, ballroom and jazz. In addition to Jeffrey Cirio's premiere, the performance will feature premieres by Catherine Cabeen and Rennie Gold. Among the exciting handpicked classic works are Home by Doug Varone and a Petipa pas de deux. Brooklyn-based dancemaker Nora Petroliunas will premiere Days 1-6, a solo for herself featuring music by David Byrne, Lorde and Kishi Bashi. Michael Nickerson-Rossi and Anna Liceica will also perform.
Co-Founder Wolff says, "Our goal is to form community relationships through the enjoyment of dance. We are dedicated to bringing world-class dance to the residents and visitors of Cape Cod. And this summer we are offering outreach activities in Chatham and Wellfleet addition to the annual performance in P-town."
For more information on the 2015 Cape Dance Festival, visit http://capedancefestival.com.
Last year's festival was a success, with almost 400 people in attendance. The festival was able to donate $2,000 to the AIDS Support Group of Cape Cod from ticket proceeds. Feedback has been very positive.
"We have found an audience for dance on the Cape," Marine says. "There has been a lot of interest in this summer's program already. I think bringing in dancers from the Boston Ballet is a big draw and because of that we might have a standing-room situation this year."
Photo: Cirio Collective in performance. Photo by Igor Burlak.