Carlos Acosta's biopic to have NYC premiere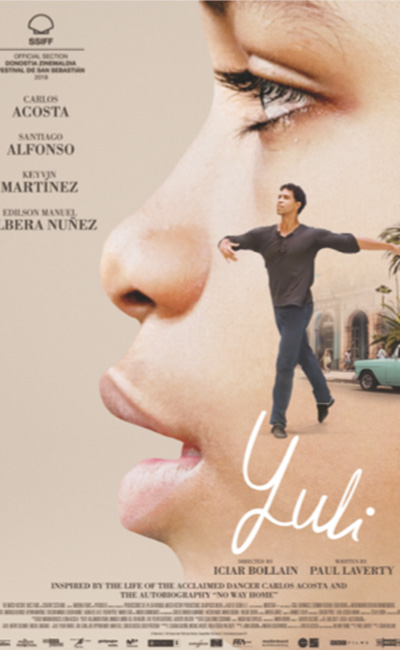 On Tuesday, April 16, The Havana Film Festival New York (HFFNY), a project of The American Friends of the Ludwig Foundation of Cuba (AFLFC), is set to energize the city with a special closing-night premiere honoring Cuban ballet legend Carlos Acosta. Wrapping up HFFNY's 12-day celebration of Latin American cinema (April 5–16), the evening will feature the New York premiere of Yuli (2018) at the DGA Theater. This poignant film inspired by Acosta's life chronicles his rise from poverty and prejudice to become an icon of the dance world.
The evening will begin with a pre-screening VIP champagne reception with Acosta, then present the film premiere and a post-screening Q&A, and conclude with a Cuban-themed dinner reception, Fiesta Cubana. Proceeds from the closing-night event support The International Performing Arts Foundation (TIPAF), a charitable organization that works closely with Acosta on his philanthropic initiatives, including his enriching Dancers-in-Residence training program.
TIPAF provides funding for a three-year training scholarship at the Carlos Acosta Dance Academy in Havana, a rigorous world-class program designed by Acosta and the Carlos Acosta International Dance Foundation. Highly talented, aspiring dancers from underprivileged backgrounds will experience the life-changing opportunity that comes from professionally structured dance training. The tailored course of study includes classical ballet, contemporary and folkloric dance, and prepares students for careers with Acosta Danza or other leading dance companies. The development of the academy is close to Acosta's heart, and is a way for him to create for others the kinds of opportunities he was given as a young dancer. The academy welcomed its first dance students in September 2017.
"The Dance Academy gives children from disadvantaged backgrounds the chance to study for free," Acosta said. "That's something I believe in, because it happened to me. If nobody had given me a chance, I would have been lost. I'm wondering how many children are lost—waiting to be discovered, to get the chance I had. My hope is that the film, Yuli, will inspire other young artists to follow their dreams, and to show that even in the darkest of times, there is light and possibility."
A biopic of Acosta based on his 2007 memoir, No Way Home – A Cuban Dancer's Story, Yuli is the remarkable and touching story of Acosta's rise to fame from his impoverished neighborhood in Havana to the world stage as the first black principal dancer with The Royal Ballet in London, where he forged a legendary 17-year career. As much as it is a tribute to Acosta's own journey, Yuli is a story about dance, opportunity, determination, family and, not least, Cuba—an ode to the country that fuels Acosta's passion and artistry today.
Directed by Icíar Bollaín and written by Paul Laverty, Yuli had its world premiere at the San Sebastian International Film Festival in September 2018, where it won the Best Screenplay Award. It also received five nominations from the Spanish Goya awards, including Best New Actor for Carlos Acosta, Best Cinematography and Best Adapted Screenplay. It later premiered at the Hamburg International Film Festival in September, the Palm Springs Film Festival in January 2019, and is set to be presented at the 35th Chicago Latino Film Festival and at the Miami Film Festival this month. Yuli will be screened in London on April 3, as part of a live film event sponsored by the Royal Opera House before opening widely in cinemas across the UK. The New York premiere at HFFNY on April 16 will be followed by screenings at the Washington D.C. International Film Festival (Filmfest DC) and the 45th Seattle International Film Festival, among others.
Schedule of HFFNY's closing-night screening and fundraiser on April 16 is as follows:
– 5:15 p.m.: VIP champagne reception with Carlos Acosta hosted by TIPAF
– 6 p.m.: Doors open at the DGA Theater, 110 West 57th Street, NYC
– 6:30 p.m.: New York Premiere of Yulí (115 min), Q&A with Acosta to follow
– 9:30 p.m.: Dinner/Fiesta Cubana honoring Acosta
Benefit tickets are $250 (includes the champagne reception and the post-screening Fiesta Cubana). The evening is a collaboration between TIPAF and AFLFC, the parent company of HFFNY, and both organizations will benefit from the proceeds raised from the event.
General admission tickets to the film and Q&A are $20. Tickets can be purchased here.