Celebrate National Dance Day 2014!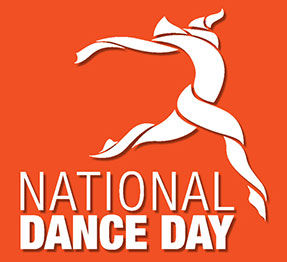 In a ground-breaking alliance bringing together three of the nation's leading cultural organizations, National Dance Day events will kick off in Los Angeles, New York and Washington D.C. on Saturday, July 26 to encourage Americans of all ages to incorporate dance into their lives.
Jenna Elfman will host the Washington D.C event at Kennedy Center's Millennium Stage. So You Think You Can Dance (SYTYCD) break-out stars tWitch and Allison Holker will host the New York City event slated to take place at the Lincoln Center. Achinta McDonald will lead the Los Angeles event set to take place at Grand Park, which will be the West Coast's largest National Dance Day event. All National Dance Day events are entirely free and the public is encouraged to attend.
Jenna Elfman, a classically trained dancer who has spent the better part of her life dedicated to dance, said, "Dance has helped me through my career, my personal life and in my life as an artist. It is so liberating to use one's body to communicate ideas and emotions, converting such into a creative sphere, whether one is exactly trained in dance or not. Dance can take one out of their problems and put their attention outward into a more aesthetic existence, and I am so happy to be part of National Dance Day celebrations in D.C."
In 2010, SYTYCD co-creator, executive producer and judge Nigel Lythgoe introduced the idea of a National Dance Day to the U.S. Congress in order to promote dance as part of a healthy, active lifestyle. Congresswoman Eleanor Holmes Norton (D, Washington D.C.) proposed a resolution in the House of Representatives, and National Dance Day was officially adopted. It now occurs annually in America on the last Saturday in July.
National Dance Day has become a grassroots event that belongs to the people. The event encourages everyone from 8 to 80 years old to get up and dance. In recent years, thousands across the nation have participated in dance flash mobs and community dance events they have organized in their home cities to celebrate the positive power of dance.
The Dizzy Feet Foundation supports National Dance Day by creating instructional video routines that the public is invited to learn and mark with their own signature style. Dizzy Feet was established in 2009 to give children in underserved areas access to the life-changing benefits of dance education.
To learn the official 2014 National Dance Day routines, watch these videos:
Everybody Dance Routine: A "Beginner Routine" choreographed by Nigel Lythgoe to "Too Cool to Dance" by Eden.
Seated Variation: An adapted version of the Everybody Dance Routine.
Advanced Routine: Choreographed by Chris Scott to "Get My Name" by Mark Ballas.
For more information, check out Dizzy Feet Foundation at http://dizzyfeetfoundation.org.