Chen Dance Center to present 'newsteps'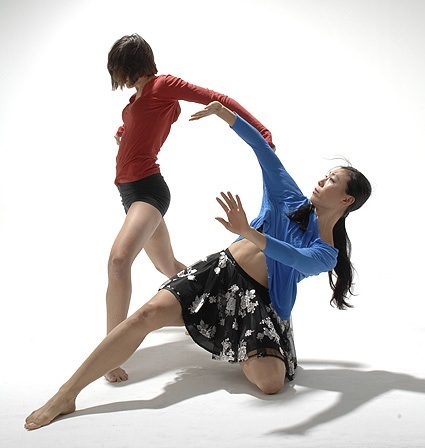 New York venue Chen Dance Center will present newsteps, its semi-annual emerging choreographers series, on Thursday-Saturday, January 16-18 at 7:30 p.m. Since 1994 the center has supported and presented over 250 artists developing new work through space and production grants. The choreographers, selected through live auditions, receive a space grant to complete their works-in-progress and are produced in three public performances at Chen Dance Center. Judges for this edition of newsteps included Sarah Skaggs, Lance Westergard and H.T. Chen.
Five works will be presented at the January concerts by emerging choreographers Jin Ju Song-Begin, Hilary Brown and Briana Brown, Calen Kurka, Adam Wile and Luis Gabriel Zaragoza.
Jin Ju Song-Begin will present the world premiere of her work Does Not Disappear, a duet inspired by the notion of femininity and its relationship to nature. The work will be performed by her and Giulia Carotenuto. Song-Begin is the founder and Artistic Director of Da-On Dance, a NYC-based modern dance company founded in 2012. A choreographer, dancer and dance teacher from Seoul, Korea, she can be seen dancing with Douglas Dunn and Dancers, Seán Curran Company, Dance Tactics, B3W Performance group and Ana Isabel Keilson.
Sisters Hilary Brown and Briana Brown will present the world premiere Women Times Three, a duet in three sections, each of which tells a unique narrative on the theme of a relationship between two individuals. The sisters recently founded a contemporary dance company called "Same As Sister (S.A.S.)." They have formed close partnerships with composer/DJ Beau Mullis (a.k.a. RAW Q) and filmmaker Kit Tipley to integrate original music and film into their choreography. They will also be performing this February as part of BAX's UPSTART FESTIVAL.
In addition, choreographer Calen Kurka will present an introspective solo for newsteps. Kurka is a contemporary dance instructor at Broadway Dance Center and the founder and Artistic Director of :pushing progress a company. He has been an original member of the first national tour of Jeff Amsden's A Few Good Men Dancin', has performed with recording artist Carmella in a tribute concert to Cher, has danced at Tokyo Disney as a Main Stage performer, and has taken on leading roles as Capt. Von Trapp in The Sound of Music and Seymour in Little Shop of Horrors in regional stage productions. In addition, he's also assistant to choreographer, director and instructor Michele Assaf.
Next, emerging choreographer Adam Wile, who studied dance at CalArts' Dance Department, will blend contemporary dance technique with an urban sensibility in an effort to explore the themes of confidence and over-confidence, subtlety and exaggeration. He is the runner-up of the 2011 Emerging Choreographer Harc Award.
Finally, choreographer Luis Zaragoza's romantic duet recalls the feeling that remains after a kiss. Born in Mexico City, Zaragoza is a performer with Sokolow Theater Dance Ensemble and a Pilates and Gyrotonic Instructor at Harmony Group. Bringing lots of choreographic experience to the stage, he has created more than 60 dances in his career. He has received the award of Best Choreographed Solo in 1999 from Asociación Danza Mexicana, and in 1991, La Universidad Nacional Autónoma de Mexico granted him the Artistic Creative Award.
For more information on Chen Dance Center's newsteps and the presenting choreographers, visit www.chendancecenter.org. Chen Dance Center is located at 70 Mulberry Street on the 2nd floor in New York, NY. Tickets are $10-12. For reservations, call (212) 349-0126.
Photo: Dancers from newsteps. Photo courtesy of Chen Dance Center.