Chicago Dancemakers Forum invites proposals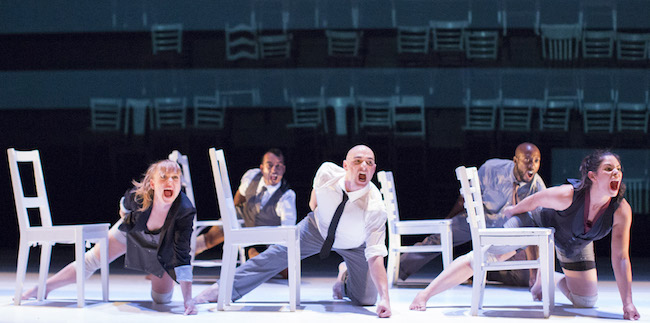 In November, the Chicago Dancemakers Forum announced the 15th year of its signature Lab Artist Awards program and invited Chicago contemporary choreographers of all dance forms and all areas of the city to submit proposals. Up to six dancemakers will each receive $15,000 along with a year of mentorship to aid in the research, exploration and development of a new work. The most significant, sustained source of support for individual choreographers working in Chicago with an open call process, the Lab Artist program fosters excellence and innovation while also building relationships among dancemakers, presenters, audiences and funders.
The initial application, which is an open call, officially became available December 20. The deadline to apply is February 6, 2018. Select applicants, based on their artistic vision and potential for creative growth, will be invited to submit expanded proposals for consideration for a second round in spring 2018.
Ultimately, a panel consisting of local and national dance leaders, and former Lab Artists, selects choreographers at key moments in their careers.
Each applicant must demonstrate a body of quality work, clear artistic vision, a compelling area of inquiry, a firmly grounded work ethic and readiness to create works of greater depth and scale. Successful applicants have developed a distinctive trajectory in their work and are positioned to participate in a year of creative research and dialogue with their peers. For more information about the application process, visit www.chicagodancemakers.org/labartistawards.
Past Chicago Dancemakers Forum Lab Artists are diverse in age, gender, race and discipline, working in tap, contemporary, Bharatanatyam, Chicago Footwork, dance for the camera, voguing, modern dance and more.
Former Lab Artists include: Lane Alexander of the American Rhythm Center and Chicago Human Rhythm Project, Julia Antonick and Jonathan Meyer of Khecari, Jamal 'Litebulb' Oliver of The ERA, Kevin Iega Jeff of Deeply Rooted Dance Theater, and Barak adé Soleil. Many of these 59 artists have built national and international recognition since receiving support from Chicago Dancemakers Forum. Collectively, they emanate the distinct character and power of new dance made in Chicago.
Throughout its history, Chicago Dancemakers Forum has awarded $835,000 to individual dancemakers based in the city and has successfully raised $1 million dollars to secure artist grants for years into the future.
"As Chicago Dancemakers Forum celebrates it's 15th anniversary year, we renew our commitment to elevating Chicago's extraordinarily varied and expressive dancemaking artists. Each year this process reveals new layers within Chicago's dance communities, I am eager to see the artists that come forward in 2018," said Chicago Dancemakers Forum Executive Director Ginger Farley.
While rigorous and competitive, the Lab Artist open call selection process is also designed to be beneficial for all who participate. Even those who are not selected as Lab Artists describe the application process as a constructive, informative experience with opportunity for professional development. A series of public dialogues, application information and work sessions are offered now till February 1, 2018 across the city. All sessions are free and provide space and time for gathering advice, sourcing feedback within the application process and asking questions.
Photo: Jewel Tones by 2016 CDF Lab Artist Onye Ozuzu. Photo by William Frederking.
---