Chicago Tap Theatre presents 'Tidings of Tap!'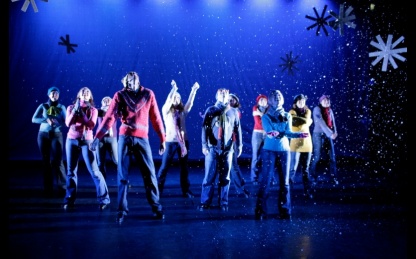 Chicago Tap Theatre will present Tidings of Tap!, a dance celebration of all things wintry, including pieces recognizing Christmas, Chanukah and the snowy season, on Dec. 14-16 at the University of Illinois Chicago Theater.
Tidings of Tap! features seasonal standards and lesser-known songs as well as the spectacular dancing of Chicago Tap Theatre. This unique production is rapidly becoming a tradition for many Chicago families. And one new part of that tradition from last year is making a return: all live music.
"Last year was the first year we attempted to present this show with entirely live music, and it was a huge success! Audience members were unanimous in their request to continue using live music exclusively," said Artistic Director Mark Yonally.
Chicago Tap Theatre is known for bringing something unexpected to the table, and again this year they are pleased to offer pieces that address the Jewish audience, a rarity in holiday programming.
"I always felt bad for the non-Christmas celebrating kids who are inundated year after year with Christmas shows," Yonally said. "This is our chance to offer something that will resonate with the whole audience, regardless of religion."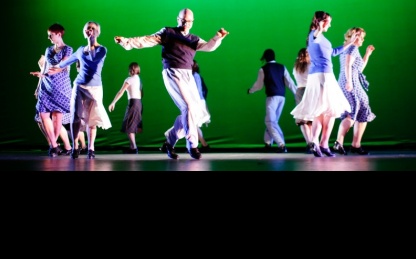 Another way that Chicago Tap Theatre sets itself apart is with choice of music.
"While we certainly have some of the classics that audiences expect, like Carol of the Bells and Hava Nagila, there are so many unique holiday songs that we perform to that people have probably never heard," Yonally said.
This year that list will include a funked-up version of You're a Mean One, Mr. Grinch, a cutesy, funny piece to The Last Snowflake to Fall and a five-minute romp through the most recognizable tunes from The Nutcracker, featuring beat boxing.
Ten-year-old Chicago Tap Theatre prides itself on breaking the mold of traditional tap dance and now hopes to do the same with holiday entertainment.
"We realize traditions are important but we also recognize that audiences want something fresh and innovative, and that extends to their holiday viewing as well," Yonally said. "With this show we hope to delight, enlighten and entertain audiences from a variety of backgrounds and to celebrate all of their holidays through dance."
He added: "Dance has the ability to bridge gaps and bring people together. That is our hope for Tidings of Tap!"
Tidings of Tap! will run Dec. 14, 15 and 16 at the University of Illinois Chicago Theater (U.I.C. Theater, 1044 W. Harrison, Chicago), which is easily accessible via public transportation. Performances on Dec. 14 and 15 are at 8 p.m., while the show on Dec. 16 is at 3 p.m.
Tickets are $35 for adults, $25 for seniors and $20 for students and dancers. Group discounts are also available. For tickets, visit www.brownpapertickets.com or call 1-800-838-3006.
For more information, please call the Chicago Tap Theatre office at 773-655-1175 or visit www.chicagotaptheatre.com.
Photos: Chicago Tap Theatre performing Tidings of Tap! Photos courtesy of Chicago Tap Theatre.