Christopher K. Morgan & Artists' 'moveMENt'
Christopher K. Morgan & Artists (CKM&A) returns for its second season at the Alden with moveMENt on Friday, April 12 and Saturday, April 13 at 8 p.m. The performances will be an exhilarating evening of virtuosic and poignant dances made by a diverse collection of all male choreographers. The program features world premieres by Artistic Director Christopher K. Morgan, company dancer Junichi Fukuda and a special guest performance by the French/Algerian company, Cie Hervé Koubi, who will present the United States premiere of Ce que le jour doit à la nuit.
First up, Morgan will premiere the work Halcyon, created with composer/cellist Ignacio Alcover, costume designer E. Shura Pollatsek and sculptor Bryan Sullivan.
"It's thrilling to work with such a range of artists who each bring their unique talents to the piece," says Morgan. "I have worked with Ignacio on several projects, including our 2011 multimedia collaboration In Plain Sight, my 2010 piece Compass Point(e)s, and Musica Aperta's 2009 production Pheasants. Costume Designer E. Shura Pollatsek and I really enjoyed our work together on my 2009 piece Thirst. New to the team is sculptor Bryan Sullivan, whom I invited to join the project after seeing his work on display in the Katzen Arts Center at American University, where he is a visual arts minor. Halcyon is a meditation on the nature of memory, exploring how memories transform with time."
Next, company dancer Junichi Fukuda will present the world premiere of his first work for CKM&A. Titled Trinitas, the piece is a collaboration with visual artist Akiha Yamakami, who creates 3D works with lithographs and cloth on the theme of the human body. This new work depicts three bodies evolving into one and incorporates the sculpture, virtuosic partnering and dancing to explore the beautiful and the grotesque.
Both Morgan and Fukuda's works began with creative development time at the Artist Residency Silo in Pennsylvania.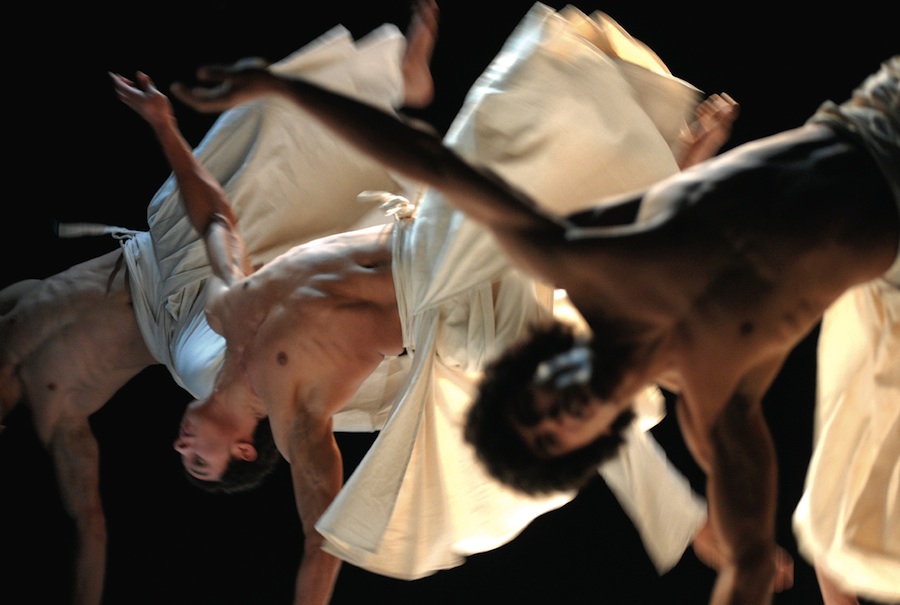 "While in residence at Silo, we were able to spend more time than our usual rehearsal schedule allows, exploring the images and ideas of these new works. We had time to discuss ideas, let them simmer in our minds and bodies, and then explore and rehearse them vigorously. I think audiences will see the result of this time in the work onstage, " says Morgan.
Morgan will also present his 2012 work C'est le ton qui fait la chanson, commissioned by The Phillips Collection and inspired by their former exhibit Snapshots: Painters and Photography, Bonnard to Vuillard. Said to be a "highlight" of the 4th Annual Velocity DC Dance Festival by Sarah Kaufman of The Washington Post, this wistful, romantic dance delves into the imagery and atmosphere depicted in the photos and paintings of the exhibition.
As the first step in a multi-year exchange, CKM&A will welcome the renowned international company Cie Hervé Koubi, who will present their work Ce que le jour doit la nuit. Yasmina Khadra's novel of the same name influenced company choreographer Hervé Koubi to embark on an exploration of his own personal history, a history complicated by discovering late in life that his parents had hidden their true Algerian origins from him.
"In the dance, I wanted to give life to my dreams as a child born in France, and who discovered belatedly his true origins and those of his parents," states Koubi.
Also inspired by Orientalist paintings and the stone filigree of Islamic architecture, Koubi traces his own entangled and weaving path in the dance. Performed by 12 Algerian and Burkina Faso dancers, their backgrounds in street dance and hip-hop have created a beautiful, athletic and unique aesthetic for this powerful work.
The Saturday performance will be followed by a post show discussion with choreographers Christopher K. Morgan, Junichi Fukuda, Hervé Koubi and other collaborators, facilitated by the Performing Arts Director of The Alden, Sarah Schallern.
Founded in July 2011, Christopher K. Morgan & Artists is a professional contemporary dance company whose work stems from a belief in the urgency of live performance in an increasingly isolating, commercial and digital world. As a vehicle for Morgan's choreographic exploration of social and cultural issues, the company also provides a creative outlet for its artists and collaborators through virtuosic and expressive dance performances. With a dual residency at CityDance in North Bethesda, MD, and the Alden Theatre in McLean, VA, the company demystifies contemporary dance through interactive dialogue and media.
For more information on CKM&A or to book tickets to moveMENt, visit www.christopherkmorgan.com.
Photo (top): Christopher K. Morgan and Junichi Fukuda in performance. Photo by Brianne Bland. Photo (beneath): French/Algerian dance company Cie Hervé Koubi in performance. Photo by Olivier Soulié. Both photos courtesy of Christopher K. Morgan & Artists.