CHRP to celebrate its 25th anniversary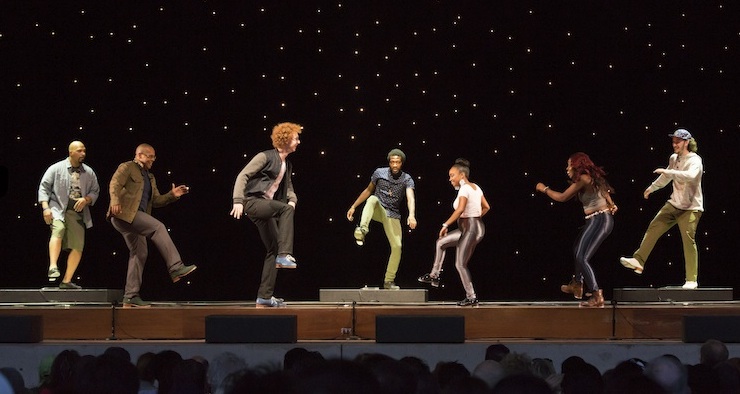 The Chicago Human Rhythm Project (CHRP) will celebrate 25 years as the nation's premier presenter of American tap dance and contemporary percussive arts this upcoming season. The organization will hold Jubalee, its annual gala benefit supporting its performance, education and community programs that reach more than 20,000 people every year, on Tuesday, October 7 at 5:30 p.m. This special evening, hosted by Bill Kurtis, will take place at the Jay Pritzker Pavilion in Millennium Park.
At this year's Jubalee, celebrating CHRP's 25th season, the organization will honor Patti Eylar and Charlie Gardner with the JUBA! Award for their longtime generous support of Chicago Human Rhythm Project and the entire dance community. In addition, CHRP will honor The John D. and Catherine T. MacArthur Foundation with its annual JUBA! Award for Extraordinary Commitment to Community and Culture for its long-term support of cultural organizations of all sizes through direct grants and smaller grants through the Richard H. Driehaus Foundation and Prince Charitable Trusts. These honorees played pivotal roles in the establishment of CHRP's shared dance space, the American Rhythm Center, which will provide a platform for multiple organizations during CHRP's next 25 years. Eylar, Gardner and The MacArthur Foundation join the distinguished company of past JUBA! Award recipients, including Gregory Hines, Bill Irwin, Mayor and Mrs. Richard M. Daley, Ted and Susan Oppenheimer, Bill Kurtis and Donna LaPietra, and Mayor Rahm Emanuel.
The evening will begin with a cocktail reception and a silent auction, and will be followed by performances featuring CHRP's resident ensemble BAM!, the Greg Spero Trio Movement Revolution and CHRP's youth outreach programs from around the city. The evening will conclude with dinner, a live auction and a dessert reception where guests can meet the performers.
Mayor Rahm Emanuel is Honorary Chair of the Jubalee. Co-Chairs include Lane Alexander, Judith Blank, Michael Foster, Diana E. Harris and Cari and Barry Shein.
To purchase tickets or tables to CHRP's 25th anniversary Jubalee, call 312-542-2477, ext. 203, or visit chicagotap.org.
Photo: The premiere of In the Beginning. Photo by Cheryl Mann.