Clairobscur Dance at the Nate Holden in L.A.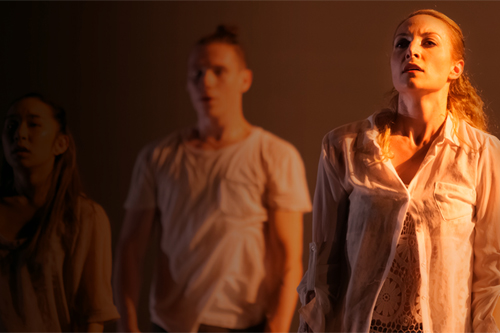 Los Angeles-based Clairobscur Dance will present the mixed bill Supremacy Ride this Saturday, March 24 at 8 p.m. at the Nate Holden Performing Arts Center. This performance features Artistic Director Laurie Sefton's choreography, with two world premieres and her sensual 2017 work Girl, Get Off.
Known for dense and detailed movements, Sefton's award-winning choreography is personal, emotional and issue-based. It focuses on conveying complex ideas such as humanity, bullying, identity, climate change, memory loss, power and sexuality.
Sefton collaborates with researchers, composers, designers, poets and conceptual artists to investigate topics and develop a cohesive intention. For Supremacy Ride, she tackles issues of sexual identity, societal stress brought about by the 2016 elections and collaborates with hip-hop poet/spoken word artist Jason Chu.
The world premiere of Supremacy Ride (the evening's title work) was inspired by the 2016 election, rhetoric and gestures of the 45th president of the United States. This work examines Sefton's struggle of coping with the new normal of daily upheaval and fear, and the journey of coping together.
Sefton's work with hip-hop poet/spoken word artist Jason Chu began in 2016 with dances set to his previously composed works freedom and The New Word for Immigrant. These works formed a foundation for their deeper collaboration and manifested as A Billion Brilliant Bits. All three works in this spoken word series with Chu take a personal tone, echoing his thoughts about freedom, immigration and humanity's struggle to stay engaged. Crafted as solo, duet and trio and accompanied by Chu live on stage, Sefton brings her gifts of detail and emotion to his intelligent poetry.
The third and final work of the evening, Girl, Get Off, is a work for six dancers with an original soundscape created by Bryan Curt Kostors. Inspired by a dream and informed by societal shifts towards new and expanding gender/orientation identifiers, Girl, Get Off is filled with sexual fluidity from a woman's point of view.
Tickets are $25 in advance or $30 at the door. $50 VIP tickets include, post performance reception with the artists. For more information, visit www.clairobscurdance.org.
---