'Cold House' unites dance and live music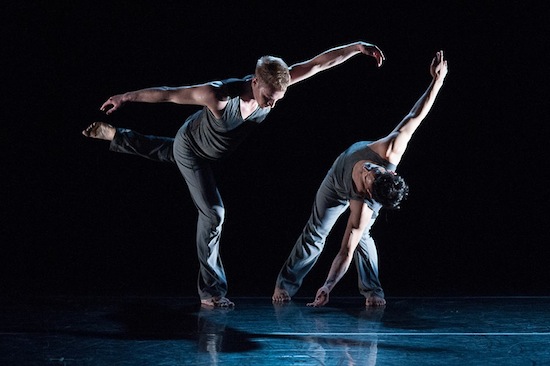 On Monday, November 18, Brooklyn-based skybetter and associates will perform an evening of contemporary dance repertory to live music by the Ear Heart Music Ensemble, a modern chamber of musicians making their debut in this concert.
The program, entitled Cold House, will include the works Temporary Matters, set to selections from Jóhann Jóhannsson's Englabörn; Cold House You Kept, set to String Quartet no. 2; Quasi una Fantasia, by Henryk Górecki; and the New York premiere of Eveningland, choreographer Sydney Skybetter's recent commission by the John F. Kennedy Center for the Performing Arts, featuring selections from David Lang's Pulitzer Prize-winning The Little Match Girl Passion.
Flutist and Ear Heart Music Director Amelia Lukas will lead the ensemble in Karen Tanaka's ethereal Frozen Horizen for flute, string quartet, double bass and percussion. Combined with Skybetter's choreography, a general feeling of stillness and cold will be given new dimension by themes of violence and darkness, and a warped sense of self and other.
On Eveningland, Skybetter said it was created during a time of little sleep. "We had just moved to DC so my wife could complete a fellowship at the Smithsonian, and my then-one-year-old son wasn't sleeping well. He simply refused to learn how to fall asleep," he recalled. "Every night, my wife and I would rock, sing, cajole and beg him to go down, and ultimately, exhausted, he'd konk out, only to wake up two hours later. Over time, I found this lack of sleep warped my sense of self and the world."
According to Skybetter, it was this new life perspective that created the "emotional terrain" of Eveningland. He said, "Informed by David Lang's score, I created a danced, formal frame to mirror the odd violence and darkness of my somnambulance."
Although admitting it was fueled by "a narcissistic intention," the work was definitely affected by the intensive collaborative process. The final outcome is the result of three dance companies – skybetter and associates, Christopher K. Morgan and Artists, and Summation Dance. The companies worked in close collaboration, sharing resources, funding and dancers.
"It is an intensely collaborative work haunted by the bodies, stories, poetry and emotional states of dozens of dancers from around the country. I set out to make a mirror, and my dancers made a kaleidoscope," Skybetter said.
The performance, which will take place in the round, is the perfect performance leading into the impending winter season, with the music selection icy and transcendent and the dancing full of formalities, architectural abstraction and contradictory impulses. It will be presented for one night only on Monday, November 18 at 8 p.m. at Roulette in Brooklyn.
For more information or to book tickets, visit roulette.org/events.
Photo: Kile Hotchkiss and Jordan Isadore of skybetter and associates. Photo by Christopher Duggan.