Compañía Nacional de Danza in Zaragoza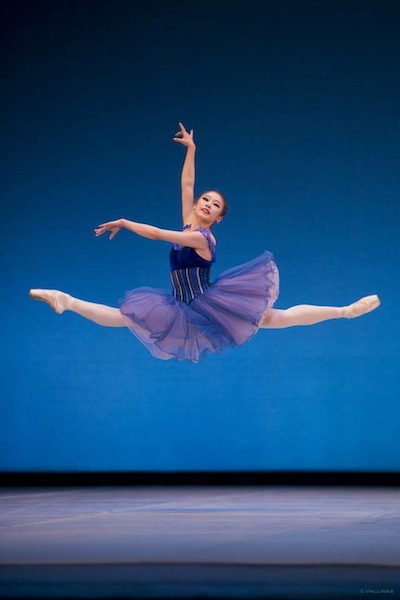 Spain's Compañía Nacional de Danza will tour to the country's northeastern city Zaragoza to perform at the Teatro Principal on June 13-15. Having just toured to Sevilla, Madrid and Cádiz, the company will be going full throttle.
The Zaragoza program will include the romantic ballet Allegro Brillante by George Balanchine, the abstract work Holberg Suite by Tony Fabre, the loving Three Preludes by Ben Stevenson, the newer work Les Bourgeouis by Ben Van Cauwenbergh, and the dynamic Delibes Suite and classic Raymonda Divertimento, both by José Carlos Martínez.
Balanchine's Allegro Brillante, which was originally created for New York City Ballet in 1956, is characterized by what Maria Tallchief (the ballerina on whom the bravura leading role was created) calls "an expansive Russian romanticism." The music's vigorous pace makes the steps appear even more difficult, but the ballet relies on strong dancing, precise timing and breadth of gesture. Balanchine reportedly said, "It contains everything I know about the classical ballet in 13 minutes."
Holberg Suite, on the other hand, is a conceptual work inspired by choreographer Tony Fabre's appreciation for the music of Norwegian composer Edvard Grieg. With this 18-minute work, the spectator is invited to clear his mind: to liberate it in order to enjoy pure movement.
The international award-winning Three Preludes, which was first presented by the company in 2012, was created by Ben Stevenson in 1969. Performed to selections of Sergei Rachmaninoff's "Preludes," this popular work is known for its gentle, loving pas de deux that focuses on two dancers falling in love through a dance rehearsal. The three movements develop in both speed and intensity as the emotion between the dancers evolves into passion.
In addition to these more established works, audiences will get to see newer pieces, such as Les Bourgeouis (set to music by Jacques Brel.) The program will conclude with Delibes Suite, a 2003 work that mixes subtle lightness with certain vitality, and Raymonda Divertimento, choreographed by Compañía Nacional de Danza's current Artistic Director José Carlos Martinez to music by Alexander Glazunov and orchestration by Alfredo Aracil.
For more information, visit http://cndanza.mcu.es. Compañía Nacional de Danza, Spain's national dance company, was founded in 1979 under Victor Ullate. His successors included María de Ávila, Russian ballerina Maya Plisetskaya, contemporary choreographer Nacho Duato, Hervé Palito and now José Carlos Martinez, former principal dancer of the Paris Opera Ballet.
Photo: Compañía Nacional de Danza in Delibes Suite by Artistic Director José Carlos Martinez. Photo by Jesus Vallinas.