Compagnie Käfig at the Kennedy Center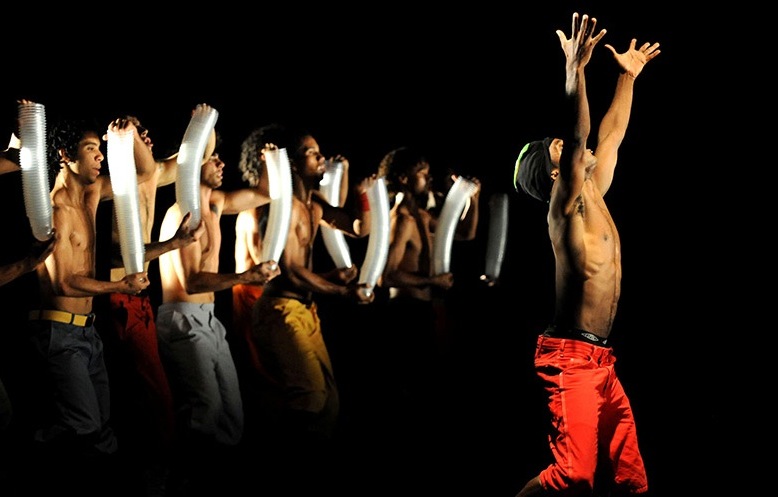 What do you get when you mix a French choreographer trained in circus skills, martial arts and hip-hop dance with 11 male street dancers from Rio de Janeiro's notoriously dangerous shantytowns? The answer is Compagnie Käfig – a truly original dance company that will make its Kennedy Center debut in Washington D.C. at the end of February.
Compagnie Käfig will present Artistic Director Mourad Merzouki's Correria and Agwa. The all-male Brazilian cast performs these works influenced by hip-hop, bossa nova and capoeira on February 28-March 1, 2014. On the first evening, Explore the Arts offers a free post-performance discussion with a moderator and members of the company.
The inspiration for both Correria and Agwa was an encounter between Merzouki and 11 young dancers from Rio de Janeiro at the Lyon Dance Biennial in 2006. The Brazilian dancers had their roots in the "favelas" (shantytowns) where they grew up, and their individual stories struck a profound chord with the Compagnie Käfig choreographer.
Correria ("running") plunges into a frantic, hectic race, just like the one that governs our daily lives, bodies and movement. Agwa ("water") is about water, at once a vital component of our bodies, a precious natural resource to be economized and preserved and a symbol of renewal.
Artistic Director Mourad Merzouki practiced martial arts and circus arts since the age of seven. When he was 15, his encounter with hip-hop culture brought him to the world of dance. His diverse background gives him a novel and imaginative voice as a choreographer.
The Kennedy Center is located at 2700 F. Street NW in Washington D.C. Tickets to see Compagnie Käfig are now available. Visit www.kennedy-center.org for more information.
Photo: Compagnie Käfig in Mourad Merzouki's Agwa. Photo by Michel Cavaica, courtesy of the Kennedy Center.