Company Wayne McGregor to perform in L.A.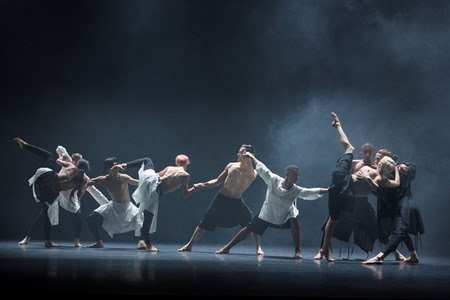 The Music Center will soon open its 2018-19 dance season with the Los Angeles premiere of Company Wayne McGregor's Autobiography on October 5-7. The contemporary dance portrait will fuse science and the human form.
Known for choreography that examines life through the experience of the body, British choreographer and director Wayne McGregor, CBE based Autobiography on the sequencing of his own genome, compiling 23 different sequences that are performed in varying order each night. McGregor uses a computer algorithm to determine the selection and order of the 23 sections prior to each performance, ensuring audiences will experience a performance that will never be repeated.
In developing this work, McGregor translated personal memories, old writings, art and music into choreography that portrays his personal story. The 23 sequences that make up the work correlate directly to the number of pairs of chromosomes in the human genome.
With award-winning, bold set design and large-scale projections by artist Ben Cullen Williams synced to an electronic score performed live by avant-garde electronic musician Jlin, Autobiography offers audiences a deeper look at what movement can embody. The Guardian commented in a five-star review, "Wayne McGregor turns his life story into dance in a mesmerizing, inimitable show based upon his own genetic code."
Rachel Moore, president and CEO for The Music Center, said, "Wayne McGregor challenges audiences to reconsider any preconceived notions of dance and explore how movement can communicate the true essence and distinctiveness of who we are as human beings. Introducing randomness through the order of the vignettes allows the work to echo the accidental or unplanned nature of our own lives."
"Company Wayne McGregor is a prime example of our commitment to bringing the best of dance to Los Angeles audiences with a fearless, dynamic season presented only by The Music Center," Moore added.
Michael Solomon, vice president of presentations and education for The Music Center, commented, "Autobiography melds the worlds of science and art by incorporating something as universal as our own DNA into the foundation of a piece and allowing that foundation to engage audiences in new and different ways. Wayne McGregor tackles themes of memory, aging and sleep through powerful choreography and vibrant set design, all set to industrial sounds and dance rhythms that provide a once-in-a-lifetime experience."
Each of Autobiography's 23 choreographic portraits is a self-contained vignette that examines questions about the human condition. McGregor's distinctive visual style and history of creative collaborations, coupled with his company's ensemble of 10 highly athletic dancers, results in ambitious and experimental choreography, rhythmic compositions and stunning performances. Each performance will feature a mesmerizing electronic score performed live by critically-acclaimed electronic musician and producer Jlin, lighting design by McGregor's long-time collaborator and award-winning lighting designer Lucy Carter, costumes by Aitor Throup and dramaturgy by Uzma Hameed. The Autobiography algorithm was developed in collaboration with software architect Nick Rothwell.
This production of Autobiography launches the 16th season of Glorya Kaufman Presents Dance at The Music Center, which showcases today's most renowned companies in revelatory programs of both classic and contemporary works.
Tickets for Autobiography performances at The Music Center start at $20 and are available online at musiccenter.org/autobiography.
Photo courtesy of Richard Davies.
---