Complexions announces 25th Season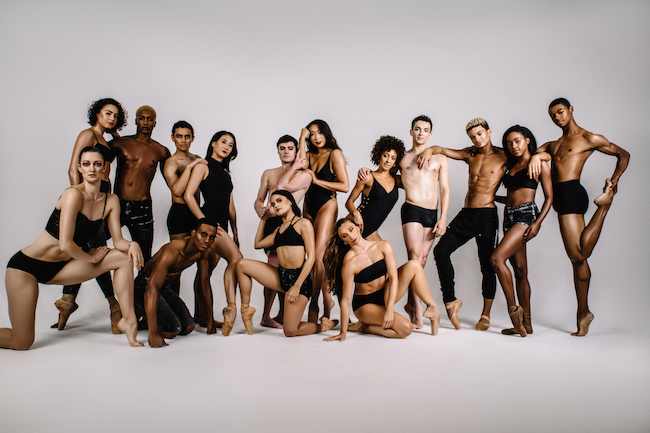 Complexions Contemporary Ballet (Complexions) celebrates its 25th anniversary season at The Joyce Theater in New York City from February 19-March 3, 2019. Under the artistic direction of Dwight Rhoden and Desmond Richardson, the company will celebrate this milestone anniversary with three dynamic programs over a two-week span. Filled with a roster of some of the most diverse and exciting young stars, Complexions explodes onto The Joyce Theater stage with its signature style of athleticism, virtuosity and passion that has excited audiences for a quarter century.
In the first week's program (Program A), Complexions will present the NYC premiere of BACH 25. Set to the music of Johann Sebastian and Carl Philipp Emanuel Bach, the work features the entire company in continuous movement to the Baroque composers' dramatic violin and cello. A festive, athletic, neo-classical work in the signature style of Complexions, this romantic, playful and intensely physical piece celebrates the union of music and movement. Returning this season due to popular demand is the runaway hit Star Dust, a ballet tribute to the genre-bending innovation of one of the most prolific rock stars of all time, David Bowie. This full company ballet takes an array of Bowie's hits and lays a visual imprint inspired by his unique persona and restless artistic invention, resulting in a rock opera production in his honor.
In the second week (Program B), the company will present the world premiere of WOKE, a physical reaction to the daily news. A bold and dynamic socially-conscious one-act ballet featuring the full company, it examines our humanity in conjunction with today's political climate. This work is inspired by the enlightened awareness and challenging moral compass of today's generation. In honor of its 25th anniversary, the company will present From Then to Now, an amalgamation of audience favorites spanning the rich history of the troupe. Highlights will include excerpts from classics such as 2008 work Rise (featuring music of U2) and 1995 work The Grapes of Wrath, among other audience favorites.
All matinee programs (Matinee) will feature Bach 25 and From Then to Now.
Scheduled during the run, Complexions' annual fundraising gala will be Thursday, February 21. Proceeds from this gala benefit performance will continue to help build Complexions' educational initiatives through scholarships, mentorship programs and the continued development of Rhoden's and Richardson's methodology of dance training. Complexion's educational initiatives were offered in six cities this past year, allowing the company the ability to mentor and train hundreds of dancers. The gala will give audiences an opportunity to see the next generation of performers as they grace the Joyce stage. In addition to the company performing, there will be a new work performed by the students of Complexions' pre-professional program and students from New Orleans Ballet Association, and a performance from Complexions Artistic Director Desmond Richardson.
For more information, visit www.ComplexionsDance.org.
Photo: Complexions Dance. Photo by Steven Trumon.