Complexions to premiere four new works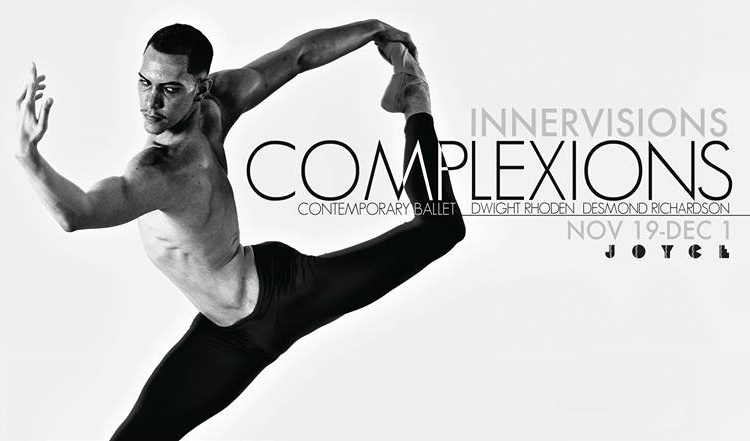 Complexions Contemporary Ballet comes to The Joyce Theater in New York City for a jam-packed two-week season filled with new works galore on November 19-December 1. Performances will include premieres by Artistic Director Dwight Rhoden, Associate Artistic Director Jae Man Joo, choreographer Alejandro Cerrudo and company member Gary W. Jeter.
Jae Man Joo's full-company work Recur will have its New York premiere during this two-week season. The work is about how certain things happen to us in life and how their memories can become a part of us if not cast off. Featuring music by Max Richter, Nils Frahm, Zoe Keating, Keith Kenniff and Valentin Silvestrov, the work will be lite by lighting designer Michael Korsch and outfitted by costume designers Kelly Brown and Quentin Arnaud.
Artistic Director Dwight Rhoden will also present a new work at The Joyce. The full company will perform Innervisions, a world premiere work set to the music of Stevie Wonder. It will feature lighting design by Michael Korsch, popular songs by Stevie Wonder and costumes by Kelly Brown.
Then, the company will present the 2011 work Never Was by Alejandro Cerrudo, the resident choreographer of Hubbard Street Dance Chicago. This duet will feature music by George Frideric Handel and Henry Purcell, as well as lighting design by Matt Miller and costumes by Branimira Ivanova.
The company, which is made-up of seasoned performers and amazing athletes, will also present the new work by company member Gary W. Jeter II titled You Do What You Can. A trio set to music by Cee-Lo Green, Matthew Bourne, Ennio Mericonne, and spoken word from Boondocks, the work emphasizes the need for humanity to do what they can when they can. The work description asked, "What do you do when you can't do nothing and there's nothing you can do? You do what you can… And in doing what you can, sometimes you discover that you are capable of much more."
Company devotees will also have the chance to see repertory favorites Moon Over Jupiter set to the music of Rachmaninov and Flight set to the music Bach.
Now in its 19th season, Complexions Contemporary Ballet is thrilled to return to The Joyce Theater for its annual season. To purchase tickets, call Joyce Charge at 212-242-0800 or visit www.joyce.org. The Joyce Theater is located at 175 Eighth Avenue (at 19th Street) in Chelsea, NYC.
The Thursday, November 21st show will be a benefit performance with a special appearance from students from the company's 2013 Detroit Summer Intensive. There will be no show on Thanksgiving Day on Thursday November 28.
Photo courtesy of Complexions Contemporary Ballet.